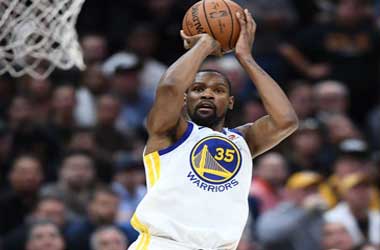 Adrian Wojnarowaski from ESPN has reported that NBA All-Star Kevin Durant has declined a $31.5 million player option to stay with the Golden State Warriors and has opted to become a free agent.
The report does not come as a surprise as rumours of Durant leaving the Warriors has been floating around for the last few months.
Kevin Durant injured himself during the Western Conference final playoffs after he suffered an injury to his calf. He sat out for 31 days and then decided to play in Game 5 against the Toronto Raptors in the NBA finals. The Warriors were forced to play Durant as they were on the brink of losing and needed Durant to strengthen the team.
That turned out to be a disastrous decision for both the Warriors and Durant as he suffered another injury during the game. Durant ruptured his Achilles which forced him out of the game and effectively ruled him out for the coming season. The 2 time NBA Finals MVP is reportedly unhappy that the Warriors pushed him to play Game 5 and this could have been the straw that broke the camel's back.
ESPN
If Durant stays with the Warriors he can get a 5 year contract valued at $221 million. Whereas if he options for free agency, the best that he will be able to command is a 4 year contract at $164 million. Even though the money is less, Durant has decided to become a free agent.
New York Knicks Cautious About KD Signing
Just about every NBA franchise would be happy to sign Kevin Durant but not everyone can afford him. The New York Knicks, Los Angeles Clippers and Brooklyn Nets are some of the franchises that are keen on offering him a contract but are being very cautious due to his injury.
Durant's injury will effectively keep him out of most of the coming season if not all of it. The Knicks are ready to sign Durant but want go over his full medical report so that they can make an informed decision.
Kevin Durant's manager Rich Kleiman stated that at this point in time Durant is not sure where he is going to play next. The two are reportedly in New York to meet with different teams and evaluate the different free agency options available.