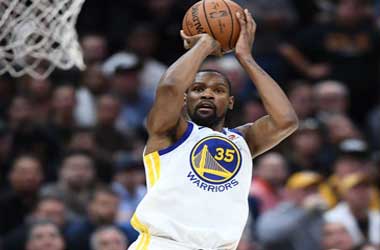 The Golden State Warriors (GSW) are the defending champions and the favourites yet again to win this season's NBA Championship.
They have a phenomenal team of All Stars that have made it a habit of winning consistently and dominating the opposition.
The Warriors took on the Los Angeles Clippers on Monday and were still the favourites even though they were without one of their key players.
Stephen Curry is suffering from a groin strain and did not take the court against the Clippers as expected. Going into the match, head coach Steve Kerr said that he would give Kevin Durant extra responsibility to plug the void caused by the absence of Curry.
Durant had a good game and scored 33 with 10 assists and 11 rebounds and received good support from Klay Thompson who scored 31 points with 2 assists and 3 rebounds. The Clippers put up a good fight as Lou Williams and Montrezl Harrell led the charge. The scores were level a few moments before the final buzzer and Green had an opportunity to pass the ball to Durant for a shot but instead he chose to hold on to the ball and play it safe.
That's unlike the Warriors and that costly mistake could have very well cost them the game as it unsettled the team environment as Durant and the rest of the Warriors were not happy with Green's decision and it showed in their body language during overtime. The Clippers would go on to beat the Warriors 121-116.
Durant Might Be More Keen On Free Agency Now
Draymond Green had to face some angry teammates including Durant but he wasn't very apologetic and instead turned out to be confrontational. Insider reports allege that the Warriors locker room witnessed a very heated exchange between the players but there was no physical altercation.
ESPN
Durant and Green did not face the media after the game and instead it was up to Shaun Livingston who plays point guard to try and put things to rest.
In a statement, Livingston said
Just team spirit. Team spirit. Guys wanted a different outcome than what happened. Obviously, Dray had the turnover, guys might have thought they were open or wanted the basketball, didn't get it. Things happen like that in sports. But it was good to see some fire, some emotion.
There have been rumours that Kevin Durant will most likely pursue free agency next season and leave the Warriors. This heated exchange could be another step in that direction for the NBA All Star.