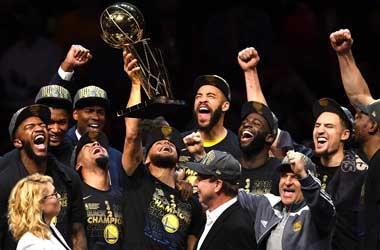 The NBA Season just got underway and the defending champions, the Golden State Warriors are once again the favourites to end up winning another NBA Championship. The Warriors will try to win their 3rd consecutive NBA Championship and their 4th in the last 5 years as they have a Dream Team with the likes of Stephen Curry, Kevin Durant, Klay Thompson, Draymond Green and DeMarcus Cousins.
The biggest competition for the Warriors during the last few years has been the Cleveland Cavaliers who were led by LeBron James. The Cavaliers are no longer the force that they once were as their two biggest stars in Kyrie Irving and King James are no longer with them. Some NBA analysts believe that this could be the last season that the Warriors Dream Team stay together.
Kevin Durant Being Courted By NY Knicks
There's no doubt that Kevin Durant has played an integral role in helping the Warriors dominate just about every other team in the league. He has provided great support to Curry and also led the team when Curry has been injured or had an off day. Durant has made remarks in the past that he would be open to leaving the Warriors should he find the right offer.
The Fumble
He will enter free agency once this season comes to a close and it is quite possible that he would move on from the Warriors. The Warriors visit New York on October 26 to play the New York Knicks and Durant will undoubtedly get to hear of the billboard near the iconic Madison Square Garden that is courting Durant to join the Knicks with the plug 'Can you make NY sports great again?'
The Billboard was put up by diehard fans of the Knicks who wanted to give both Durant and the NY Knicks a heads-up on what they need to do next season to become a serious threat in the NBA.
Klay Thompson Could Also Leave In 2019
Klay Thompson has played in the shadows of Curry and Durant but he is without a doubt an integral part of the Warriors. His contract comes to an end next season and it is quite possible that he will consider free agency as it is quite possible that he ends up getting a lot more money on his new contract. Green is on contract till 2020 and he could also move on especially if the Dream Team breaks up.
Fans of the Golden State Warriors should enjoy this season as it could possibility be the last time we see the Dream Team in action!