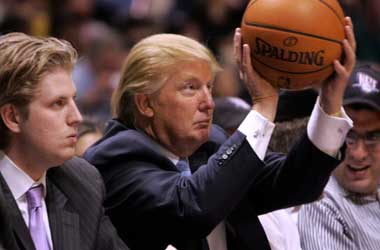 UCLA basketball players were in China earlier this month to play their first game in Hangzhou, Shanghai against Georgia Tech in what was to be an annual Pac-12 overseas game. The basketball match was supposed to help promote the US sports game in China but UCLA players made the headlines for their antics outside the basketball court.
Three UCLA players in Jalen Hill, Cody Riley and LiAngelo Ball were arrested in China for shoplifting and were remanded to custody. Video surveillance showed that the three players stole Louis Vuitton sunglasses from a store not too far away from their hotel. Shoplifting is a very serious offense in China and carries with it a maximum penalty of spending 10 years in prison.
The three players were let out on bail but did not take part in the opening match and were not allowed to leave the country. They were still in the country when President Donald Trump visited China and met with President Xi Jinping and President Trump said that he did mention the three UCLA players to President Xi and requested if the matter could be addressed speedily.
ABC News
The three UCLA players who downplayed their shoplifting charges were allowed to fly back to America and now remain suspended indefinitely by UCLA basketball coach Steve Alford. The three UCLA players thanked President Trump for helping secure their release and having all charges dropped during a UCLA press conference but the father of LiAngelo Ball says that there is no reason for him to be grateful to President Trump as he never did anything.
President Trump wasn't happy with the lack of gratitude and tweeted
Now that the three basketball players are out of China and saved from years in jail, LaVar Ball, the father of LiAngelo, is unaccepting of what I did for his son and that shoplifting is no big deal. I should have left them in jail!

— Donald J. Trump (@realDonaldTrump) November 19, 2017
LaVar Ball said the media was trying to make it appear that President Trump helped his son and the other two UCLA players but said that he did not feel the need to say thanks because President Trump had not gone and visited his son in prison. LaVar Ball has had made it a habit to say controversial stuff from saying he could have beaten Michael Jordan in college in a one-on- one game to boasting that his son Lonzo Ball was better than Stephen Curry event before Lonzo played in the NBA.