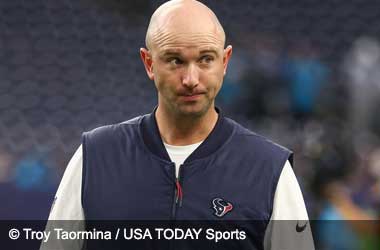 Summary
Jack Easterby and Houston Texans have "mutually agreed" to part ways
Easterby joined the team in 2019 and was promoted to his current role in 2020
He was previously criticized for his involvement in some of the team's controversial decisions
The Houston Texans have officially severed ties with Jack Easterby who had served as executive vice president of football operations for the club since January 2020.
Easterby's Departure a Mutual Decision
Easterby's departure was announced on Oct 17, by Texans chair and CEO Cal McNair who said it was a mutual decision.
The Texans' Football Operations staff will take over Easterby's duties and responsibilities for the remainder of the season. McNair thanked Easterby for his positive contributions to the team.
A statement from Chair and CEO Cal McNair. pic.twitter.com/kvyH2Ia0GO

— Houston Texans (@HoustonTexans) October 17, 2022
In response to McNair's statement, Easterby said he and his family are grateful for the opportunities provided to them by the McNair family during their time in Houston. He wished the organization well moving forward.
My family and I are thankful for our time in Houston. We appreciate the opportunities the McNair family has provided us and wish the organization well moving forward.

— Jack Easterby (@JackEasterby) October 17, 2022
Easterby joined Houston in April 2019 as vice president of team development, acting as the right-hand man of then-head coach Bill O'Brien. He was later promoted to executive vice president of football operations in January 2020 while O'Brien was still leading the team and was also named Houston's general manager.
In October of that year, the team sacked O'Brien following a poor start in the 2020 NFL season. Easterby then took charge of the team's personnel. Though he was not given the general manager position, he became the highest-ranking front office person in the organization in terms of title.
Hounded by Controversy
Throughout his stint with Houston, Easterby had been a controversial figure, drawing criticism from Houston players and fans over his influence on the team's decision-making process. His promotion also gained significant media attention given that he had spent most of his years in the league mainly as a character coach.
Some people within the organization were reportedly not happy with how Easterby carried out his role. There were claims he advocated for the trade of DeAndre Hopkins which had irked fellow players and plenty of Houston fans. He was also accused of undermining other executives and cultivating a culture of distrust in the organization.
In January 2021, Andre Johnson, who played as wide receiver for Houston for 12 seasons and went on to become one of NFL's most productive wide receivers of the 21st century, criticized Easterby, saying nothing good had happened in the organization since the former chaplain joined the team. Johnson made the comments amid reports Deshaun Watson requested a trade after having issues with the team's hiring process.