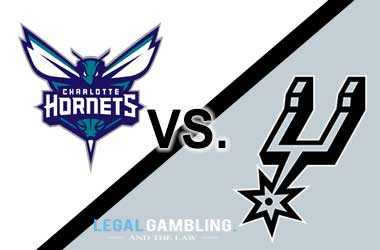 The Charlotte Hornets will be looking for their fourth straight win when they host the San Antonio Spurs on Tuesday night.
San Antonio has been playing great basketball of late, and are locked into a playoff spot in the Western Conference. Charlotte still has some work to do if they are going to reach the playoffs, but they have hope.
San Antonio comes into this game with a record of 43-21, but they have not been a good road team. The Spurs have managed to go just 14-23 away from home this season, but did beat Boston in their previous game. Charlotte comes into this game with a record of 34-39 and remain just outside of the playoff picture in the Eastern Conference.
The Spurs are a -3.5 point favourite over the Hornets in this game.
Spurs Just Find Ways to Win
The San Antonio Spurs don't do anything particularly well this season, but they manage to find ways to win games. The Spurs are scoring 111.8 points per game this season, while allowing 110.1 points per night. San Antonio does shoot close to 40 percent from the three-point line, but they don't shoot a ton of them. Head coach Gregg Popovich is a Hall of Fame coach, and this might be his best coaching job.
DeMar Derozan has been terrific for the Spurs in his first season in San Antonio. The former Raptors star is averaging 21.4 points and 6.2 assists per game. Center LaMarcus Aldridge is having a terrific season as well, and poured in 48 points in the win over the Boston Celtics. The Spurs also rely on a ton of role players to help them win games, and they will need to play well in this game.
Hornets Offense Better of Late
The Charlotte Hornets have not been a very high scoring team this season, but they have been finding offense of late. After scoring just 75 points in a loss to the Miami Heat last week, the Hornets have scored at least 113 points in each of their last three games. Charlotte has been a pretty good team on the defensive end of the floor, but their offense has helped them win games of late.
Point guard Kemba Walker has been the leader for the Hornets on offense this season, and was named to the All-Star team for his efforts. Walker leads the Hornets with 25 points and 5.8 assists per game this season. Shooting guard Jeremy Lamb is the second best option for the Hornets, and hit a game winner for the Hornets in their last game. The Hornets make 12 three pointers per game, and will shoot plenty of them.
San Antonio To Get Road Win
Even though the Spurs aren't a very good road team, they are going to get the win in this game. San Antonio is rounding into playoff form, and their two stars will carry them to a victory.
Charlotte can't afford another loss at home, but that's what they are going to get.
Bet the San Antonio Spurs -3.5 over the Charlotte Hornets on Tuesday night.