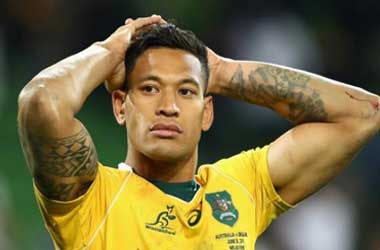 Australian rugby star and former player Israel Folau has been in the news for his controversial remarks against homosexuals.
Folau who is a devout Christian has been vocal about his biblical beliefs via his social media platforms which resulted in him getting terminated by Rugby Australia and him not being selected for the 2019 Rugby World Cup.
Folau fought back and filed a lawsuit against Rugby Australia for being discriminate towards him due to his beliefs. The two sides have refused to back down from their beliefs but it appears that the matter is now behind as the two sides have reportedly reached a settlement.
Folau filed a lawsuit seeking $14 million in damages and unconfirmed reports suggest that he has received $8. However, there is no indication as to what amount Rugby Australia played the controversial rugby player as both parties preferred not to reveal any financial details which is a good thing given the fact that the Australian public were lashing out at Folau for demanding more compensation.
ABC News (Australia)
The controversial social media post by Israel Folau stated that "hell awaits drunkards, homosexuals, adulterers, and other sinners". Though Folau agrees that the statement was hurtful to homosexuals, he did not back down saying that it only reflected his religious beliefs but did not intend to harm or offend anyone with the post.
The joint statement with Rugby Australia and Folau pointed out that Folau does not condone discrimination of any kind despite his statement and that he believes in Rugby Australia's dedication to diversity and inclusion. Rugby Australia's opinion in the joint statement was made clear though. They did not agree with Folau's post and reaffirms its dedication to including everyone. However, Rugby Australia also admitted that its actions did cause harm to Folau. The two parties apologised to each other and hopefully everything has been put to rest once and for all.
Details Of The Lawsuit
The lawsuit started back in May 2019 when Folau's four-year contract was scrapped because an independent panel decided his social media post violated his terms of employment.
Folau was of the opinion that his firing was because of his religious beliefs and so he sought compensation. The initial amount was $10 million but was upped to $14 million since his career in rugby in Australia was essentially over.