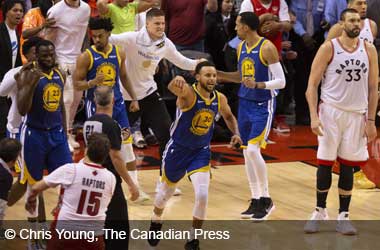 When the Golden State Warriors walked out onto the court for Game 5 against the Toronto Raptors, they looked a lot more confident as Kevin Durant was back. Durant had been out for 31 days with a calf injury and was brought back to help the Warriors stay in the NBA finals.
Durant did not last long as he once again injured himself in the second quarter and had to be taken to the hospital for an MRI scan. Toronto was very keen to take advantage of situation and win Game 5 in front of their home fans. They came so very close to doing just that but it wasn't to be as the Warriors ended up on top with the score at 106-105 to push it into Game 6.
The Raptors should have , could have and would have won Game 5 as we predicted had they been a little smarter and a little sharper in the final quarter. Kawhi Leonard did not play as well as he is used to playing in the first three quarters but he had a great fourth quarter that helped the Raptors take the lead.
ESPN
The Warriors also made a number of mistakes offensively and defensively in the fourth quarter which made it appear that the game was slipping away and the Raptors were going to have a fairy-tale victory in front of their home fans. It wasn't to be as the Warriors managed to hold them off and win with a 1 point margin.
The Raptors will want to win Game 6 and not let it go into Game 7, even though Game 7 will be held in Toronto. For that to happen, they need more from the likes of Pascal Siakam who scored just 12 points and Lowry who finished with 18.
Can The Warriors Win Two More Games?
The Warriors did not let the loss of Kevin Durant get them down as they fought back hard and kept their championship hopes alive. Coach Steve Kerr and the Warriors will have to look back at Game 5 and look to address all of the mistakes and fouls that could have cost them the game.
If they want to win Games 6 and 7, the Warriors will have to come up with a better defensive strategy and be a lot more aggressive with their offensive play.