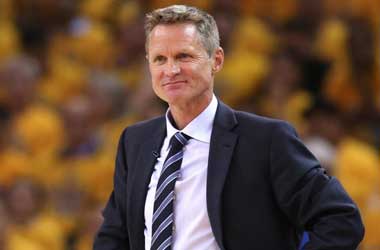 The current NBA Champions Golden State Warriors announced this week that they had given head coach Steve Kerr a contract extension which he has signed. The Warriors who have won back-to-back NBA Championships under Kerr were expected to retain their dynamic head coach and it comes as no surprise that Kerr was happy to stay on and continue his successful relationship with the franchise.
Professional sports leagues such as the NBA, NFL and MLB can be very rewarding or highly disappointing depending on how each team and individual perform. Steve Kerr became the 25th head coach to join the Warriors in May 2014 and during that time he has helped the Warriors to win three NBA championships in four seasons.
These accomplishments puts him in an elite class that include Phil Jackson who led the Chicago Bulls to NBA Championships in 1991,1992 and 1993 and John Kundla who led the Minneapolis Lakers to Championship wins in 1949, 1950 and 1951. Kerr was also the third coach in Warriors history to win the 'NBA Coach of the Year' in 2015-2016.
In a statement, Bob Myers, General Manager and Warriors President of Basketball Operations said
We're excited to have Steve under contract and poised to lead our team for the next several years. Under his guidance, we've been fortunate enough to win three NBA titles in four years and his ability to thrive in all facets of his job is certainly a primary reason for our success. He's a terrific coach, but more importantly an incredible human being
ABC7 News Bay Area
Warriors Will Continue To Remain Favorites
One of the main reasons why the Warriors have continued to remain successful is because they have succeeded in keeping their core team together while other NBA franchises have struggled to do so. The Cleveland Cavaliers who have been their biggest rivals over the past three seasons have seen their core team dismantled losing out on Kyrie Irving last season and LeBron James for the coming season.
The Warriors will enter the coming season as the favourites as they have resigned both Steve Kerr and Kevin Durant. Steve Kerr will be at the helm yet again to help the Warriors plot and strategize their way to another NBA Championship. The Warriors will also have a stronger squad in the coming season as they have signed DeMarcus Cousins on a one year contract.