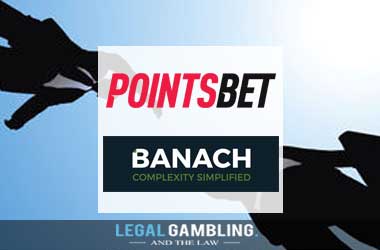 Australian operator PointsBet has focused on expanding its presence in the American sports betting market and its recent acquisition of Banach Technology will help the operator significantly expand its presence.
PointsBet confirmed that it will be paying out $43 million to complete the acquisition of Irish based software gaming company Banach Technology.
Banach Technology specialises in creating business to business solutions, algorithms, software platforms and live betting solutions. PointsBet said that this was a strategy acquisition that will bring multiple benefits to the company, especially boosting its live betting offerings.
PointsBet confirmed that it will pay out 55 percent cash for the acquisition while the remaining 45 percent will comprise of a 1.75 million share issuance and an additional $4 million that will be used to complete the acquisition between the two companies.
PointsBet has made the U.S sports betting market one of its primary focuses and has set up its headquarters in Denver, Colorado. One of the main reasons why PointsBet went after Banach was because of its innovative live betting solutions. PointsBet is not the only betting provider to go after live betting solutions as FanDuel has also strengthened its live betting offers by partnering with Simplebet.
U.S In-Play Betting Market Will Boom
Johnny Aitken, CEO of PointsBet said market research showed that the current trend in the U.S sports betting market was live betting. Close to 50 percent of all sports bets was place through live betting and Aitken believes that number will go up to 75 percent by the end of 2024.
Grand View Research market analysis shows that the global online gambling industry as a whole will surpass $127.3 billion before the end of 2027. The U.S. sports betting market is expected to surpass $2.5 billion by the end of 2021 and over $8 billion by 2025.
The top sports betting operators like DraftKings, FanDuel and PointsBet are making strategic plans to capture as much market share as possible of the lucrative sports betting market in the U.S.
Some of the deals that PointsBet has made in recent times to position itself as a major player in the U.S sports betting market include entering an equity deal with the National Hockey League (NHL) where it gave out close to $550,000 of stock and another equity deal with NBCUniversal for 5 years that is estimated to be around $500 million.