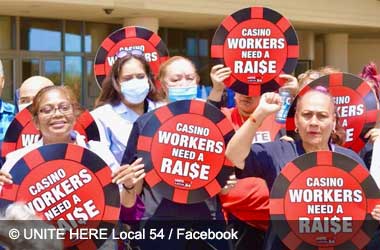 Summary
The strike will affect the Borgata, Tropicana, Harrah's, and Caesars.

MGM Resorts International and Caesars Entertainment have yet to sign new deals.
The strike will affect the Hard Rock International property by July 3.
Casino employees that are part of the Local 54 of the Unite Here union have decided to go on strike. The employees are frustrated that certain casino operators have yet to sign new contracts, several weeks after the current contracts ended.
If MGM Resorts International, Caesars Entertainment and Hard Rock International do not complete negotiations soon, the properties will be affected by a walkout.
Details of the Strike
The negotiating committee of the casino union has been authorized to call a strike on July 1st against MGM Resorts International and Caesars Entertainment. The Borgata Casino, Tropicana, Harrah's, and Caesars properties in Atlantic City will be affected.
By July 3rd, Hard Rock will be in the mix if they do not sign a deal by then. This is a major issue for the casino operators as this will disrupt the July 4th holiday, a super busy time for casinos in the region. According to Union president Bob McDevitt, around 96% of the many thousands of union members voted for the strike authorization.
An immediate strike is not imminent as the negotiating committee has to decide if the strike will take place. However, it seems likely that the committee will approve the move, especially if the new month draws near and no new contracts have been signed.
No Comment from Affected Operators; Other Casinos Sign Agreements
Caesars, Hard Rock, and MGM have yet to comment on the matter. The union has me-too agreements signed with Ocean Casino and Bally's which means that the properties will honor contracts that are reached with the larger properties of the city. They will not be affected by the strike because of these agreements.
According to McDevitt, Bally's and Ocean are in the green zone and Resorts and the Golden Nugget are in the yellow zone. The remaining casinos are in the red zone due to how the negotiating process is developing.
Members of the union say they are ready to walk out if agreements are not signed. The union wants a significant raise for its union members so that employees can better deal with financial setbacks from the COVID-19 pandemic and the latest inflation issues.
The last time a strike type situation took place in Atlantic City was in July 2016 when employees of the former Trump Taj Mahal walked out. The result of that was the casino shutting down in October and it is now the home of the Hard Rock Casino. Before that, a strike took place in 2004 and lasted 34 days before an agreement was reached.