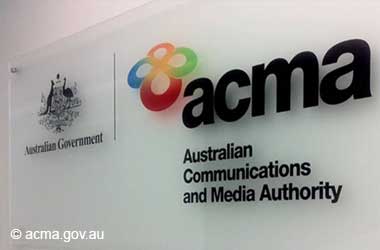 The Australian Communication and Media Authority (ACMA)—Australia's regulatory body for media and communications issued an order this week compelling the nation's Internet Service Providers (ISPs) to add nine more online gambling sites to their blacklist, after the ACMA deemed them illegal. The ACMA has seen at least 90 illegal online gambling sites exit the Australian market since 2017 when a ban on offshore gambling operators was implemented.
The nine blacklisted iGaming sites are AU Slots, Top Bet, Casino Dingo, Ignition Casino, Xbet, Roo Casino, Wager Beat, GW Casino, and Joe Fortune. According to the ACMA, nearly 80 complaints have already been lodged against the offending site.
In their subsequent investigation, the ACMA determined that the sites' operations violated 2001's Interactive Gambling Act. Australian players have now been advised by the ACMA to withdraw all remaining funds from the sites as suspension is now imminent.
The sanctions levied by the ACMA against the gambling sites come in the wake of its orders to block Fair Go Casino and Emu Casino in November 2019. The two operators soon after exited the Australian market although the sites' customer support continues to assist its customers to withdraw their funds.
Section 313 of the Telecommunications Act gave the ACMA with the power to blacklist these online gambling sites. The same section also empowered the Australian Securities and Investment Commission (ASIC) to block 250,000 sites in 2013.
The bans which must expire for a set amount of time require individual approval from a senior executive of the ACMA, and mandates that the regulatory body must ensure that its sanctions are properly and effectively enforced.
Fights Back Against Illegal Online Gambling
In recent years, Australia has sought to quell its rapidly growing illicit online gambling industry. Paul Fletcher, the Communications Minister, stated that illegal online casinos garner nearly AU$400 million annually from the country which resulted in nearly AU$100 million in lost tax revenue.
Offshore online gambling siteshave been increasingly targeted by recent Australian legislation. While the ACMA currently possesses the power to issue warnings and seek civil penalties, gambling firms who operate illegally offshore are often difficult to identify and sanction.
Fletcher stated that more serious powers are needed to deal with these firms. The ACMA's directive to local ISPs to ban such sites from operating in Australia was identified by Fletcher as a step in the right direction in their drive to reduce the presence of offshore gambling sites in the country.