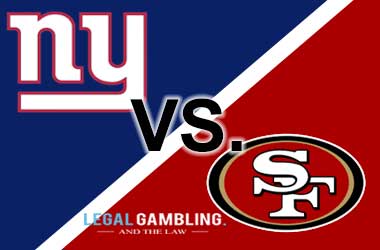 Two storied NFC teams go head to head Monday night in primetime. The all time series is tied 16-16, and the 2 have split the last 2 matchups.
The Giants are coming off a bye, and lost their last time out, 20-13 against Washington. In week 6, they lost to the Eagles 34-13, and lost 23-20 to Atlanta in week 7. The 49ers are fresh off a 34-3 win over Oakland last Thursday. In week 7, they lost 39-10 to the Rams, and lost 18-15 to the Cardinals in week 8.
BetOnline has the 49ers as 3 point favourites with an O/U of 44.
New York Giants
(1-7 overall, 1-3 on the road)
The Giants struggles are rooted in the quarterback position. While Eli Manning's box score statistics may look good, he has really struggled to accurately hit receivers and not thrown to open receivers. Manning has thrown for 2377 yards, 8 TDs, and 6 INTs this year on 7.5 yards per attempt and 68.3% passing. Saquon Barkley is the teams do-it-all workhorse, having 111 carries on the year for 519 yards and 5 TDs on the ground along with 58 receptions for 497 yards and 2 TDs. Odell Beckham Jr. continues to be impressive despite off target passes, catching 61 balls for 785 yards and 2 TDs.
The Giants D is middle of the pack allowing 244.0 yards per game, and have allowed 11 TDs on the year. They are bottom 10 in defending the run, allowing 122.4 yards per game and 7 TDs on the year. They have struggled to force turnovers, picking off just 4 passes and recovering 3 fumbles on the year, and are 2nd to last with 10 sacks this year.
Injuries and Inactive Watch
No significant injuries
San Francisco 49ers
(2-7 overall, 2-2 at home)
The 49ers caught a bit of lightning in a bottle with Nick Mullens last week against the Oakland Raiders, who completed 16 of 22 passes for 262 yards and 3 TDs . While Mullens definitely impressed with a few nice throws, he had a lot of manufactured throws and YAC from his receivers. The 49ers have been very effective running the ball this year. Matt Breida leads the team with 96 carries for 531 yards and 2 TDs. George Kittle has put himself in the conversation as a top tight end, catching 41 balls for 692 yards and 3 TDs this season.
The 49ers defense is middle of the pack allowing 248.9 yards per game through the air, and have given up 18 TDs. They are bottom 10 in defending the run, allowing 102.8 yards per game and 7 TDs. The 49ers have just 2 interceptions and 3 recovered fumbles this year, and are tied for 7th with 24 sacks.
Injuries and Inactive Watch
WR Pierre Garcon (knee) – questionable, C Weston Richburg (knee) – questionable, LB Reuben Foster (hamstring) – questionable
Predictions
How this game didn't get flexed out of primetime is beyond us. With 3 combined wins in the game there are a variety of matchups that are more intriguing this week. The Giants offense is reliant on the skill position players, and the 9ers coverage struggles outside of Richard Sherman. I don't know that Pat Shurmur can scheme Odell away from Sherman or Eli can throw him open, so that will be a very interesting matchup to watch.
Saquon Barkley will also be an x-factor as he will be matched up with Reuben Foster and Fred Warner.
We'll learn more about Nick Mullens this week against a better (albeit still not great) defense. Kyle Shanahan will create easy looks for Mullens as long as he can continue to make the throws when needed. The 9ers should rely on their ground game however, as Breida has been ripping off chunk runs all year and the Giants run D is swiss cheese.
Ultimately, we trust Kyle Shanahan getting a few extra days to scheme against the Giants D to put the 9ers over the top and get them a 4-5 point win at least.
Final Pick: 49ers (-3)