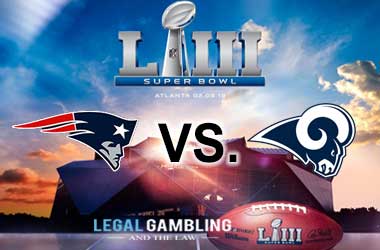 Super Bowl LIII ended with more of a whimper instead of a bang disappointing millions of NFL fans. Not only was Super Bowl Sunday a disappointment but it seems that the sports betting numbers on the game has also been weak.
The mouthwatering clash between the New England Patriots and the Los Angeles Rams, fizzled out to a boring game that ended with the scoreline on 13-3 in favour of the Patriots.
This was one of the lowest-scoring Super Bowl games ever. The bets reflected the low energy of the game as they dropped by eight percent.
According to data from Nevada sports books, wagers on the game were lower by eight percent compared to what they had a year ago.
This was despite the fact that betting analysts expected a larger turnout. According to the state's Gaming Control Board, $145.9 million was wagered on the game. The state's casinos collected around $10.8 million of the bets and 7.4 percent of those bets came out as winners.
In 2018, Nevada sports books collected $158.6 million in Super Bowl wagers. It looks like the quality of the game has a lot to do with the amount of bets it attracts. Last Year's Super Bowl was a clash between the Philadelphia Eagles and the New England Patriots which ended with a surprising upset as the Eagles won 41-33 score.
This year, most bookies and fans expected the Patriots to win and many thought that the Rams would not put up much of a fight. It appears that those predictions were correct and due to the one sided defensive game, bettors were not too keen to place bets on either the Rams or the Patriots.
In a statement, Joe Asher, CEO of William Hill, said
I thought the enthusiasm for the game was less this year. The Rams just don't have the passionate fan base the Eagles do and the Patriots fans have had plenty of chances to take in a Super Bowl in Vegas.
Sports Books Not Too Concerned
This is the first drop wagers on the Super Bowl in the state of Nevada since 2015. However, sports books aren't worried.
According to them, their facilities were full and there was no drop in ticket counts. People were just wagering less. For sports books, the betting was actually a modest win for them. A lot of the bets were focused on proposition wagers and the over-under points.