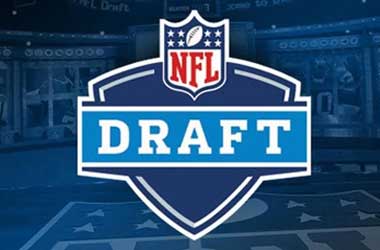 The National Football League's (NFL) General Managers and their respective teams will gather virtually from their own homes and select their picks from the 2020 NFL draft on 23 April.
Sports bettors from New Jersey are undertaking similar preparations to prepare for betting odds on the NFL draft.
The NFL Draft is currently the only major sports event on schedule. Sports bettors stuck at home with no sports to bet on the last few weeks are now raring to bet on the NFL draft.
The only other sports available for New Jersey bettors are table tennis, Belarus Premier League soccer, and Chinese Taipei which have so far failed to excite sports bettors in NJ.
Prominent online and mobile sportsbooks in NJ have noted that this year's NFL draft betting markets are much larger than the markets from previous years. Online sportsbooks are making full use of the NFL draft to offer creative betting markets. However, live wagering is likely off the table as betting markets are set to close before each drafting day.
The GOAT House
Some of the most popular draft markets right now are the team that drafts Tua Tagovailoa, the number 1overall draft pick, the first pick by the New York Giants, and the exact order of the first 3 picks.
With a little more than a week to go before the actual draft, FanDuel Sportsbook has already reached triple the volume it received from last year's draft. PointsBet has already reached last year's total, and is expecting their final total to be around 2.5 larger than last year's numbers.
DraftKings Sportsbook has similarly found success in their NFL Draft action. Their volume has now exceeded last year's take for the event, and they are preparing for more bets. According to DraftKings, 90% of last year's 2019 wagering volume came in the final 10 day stretch before the draft.
Draft Action Driven by Lack of Sports
The increase in the NFL draft betting action was explained by Johnny Avello, the Director of Sportsbook Operations for DraftKings, as due to the increase of draft betting markets to 130 from just 46 last year. Additionally, because mainstream sports events have been cancelled around the world due to COVID-19, many sports bettors are raring to bet on something that is familiar to them.
Patrick Eichner, Director of Communication for PointsBet stated that the handle will likely reach the same level as premiere NFL events such as Monday Night Football!