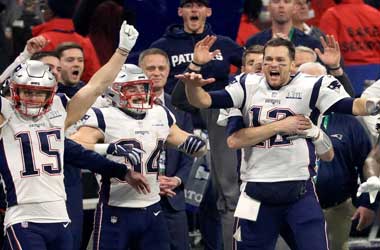 The Patriots received a lot of flak all season for their lacklustre performances but they took it in their stride and slowly improved with each passing game.
They surprised a lot of their critics and silenced their haters when they made it to the Super Bowl finals and were the betting favourites against the Los Angeles Rams.
The Patriots were the betting favourites because they had tremendous experience and some of the best players in the NFL.
The Los Angeles Rams on the other hand had a lot of youth but they lacked the experience of playing on the big stage and it showed at the Mercedes Benz stadium in Atlanta, Georgia.
The Patriots had the fan support and they responded well on the big stage. The game by itself was a let-down as it was rather slow and involved more defense than offense as shown by the final scoreline. The Patriots went on to defeat the Rams with a 13-3 scoreline to win their record tying 6th Super Bowl.
USA TODAY
It was a massive disappointment for the Rams who would have wanted to shine on the big stage and make it a more competitive match. However, the experience will do them a world of good and give their players the belief that they can make it to the 2020 Super Bowl final and win.
Tom Brady Creates History
Tom Brady had a poor match by his usual high standards and some NFL analysts believe that his average play was one of the main reasons why the Rams were able to stay in the game for so long.
Whatever you want to say about Brady and his performance on Super Bowl Sunday, one cannot deny the fact that he has now created history by winning his 6th Super Bowl championship with the Patriots. Brady had already made it clear that he would not retire irrespective of whether the Patriots won or lost the Lombardi Trophy.
With another Super Bowl win under his belt, Brady is very keen on playing the next season as he has more than enough motivation now. It is also quite likely that Brady will continue to stay with the New England Patriots as the past differences between him and head coach Bill Belichick appear to have now been a thing of the past.