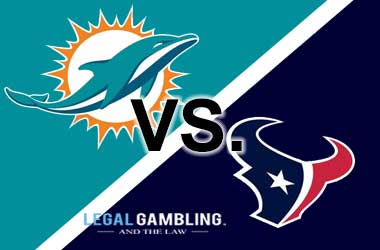 The Thursday game this week features 2 teams that are trending in different directions. The Texans lead the all time series 7-1, with Dolphins last winning this matchup in 2015.
The Dolphins are coming off a 32-21 loss to the Lions last week. In week 5, the Dolphins lost 27-17 to the Bengals, but beat the Bears 31-28 in week 6. Houston is coming off a 20-7 drubbing of the Jaguars. In week 5, the Texans outlasted the Cowboys 19-16, and beat the Bills 20-13 in week 6.
Intertops does not have a line up for this game yet, but the consensus line on GTBets is Houston (-7).
Miami Dolphins
The Dolphins are in full Brock-tober mode, attempting to ride backup QB Brock Osweiler. Unfortunately, Osweiler didn't quite do enough to overcome the Lions offense last week. Osweiler was 22/31 for 239 and 2 TDs, and really played pretty well. They fell down 17-7 at halftime, and just did not get enough stops to give their offense the opportunity to get back into it. Kenyan Drake broke a 54 yard TD run in the second half, and Danny Amendola caught a nice ball from Osweiler to cut it to 8.
The defense was pushed around all game. Matt Stafford averaged almost 10 yards per attempt on 22 attempts. They were spread out and diced up, allowing 2 TD catches to a backup TE. The Lions really controlled the game on the ground though, as Kerryon Johnson and Legarrette Blount combined for 29 carries. Johnson had 19 carries for 158 yards, including a 71 yard scamper, and Blount ran 10 times for 50 yards and a TD. WR Golden Tate even got involved, taking a jet sweep for 30 yards up the sideline.
Injuries and Inactive Watch
WR Albert Wilson (hip) – left game, DNR, doubftul, WR Kenny Stills (undisclosed) – left game, DNR, questionable
Houston Texans
The Texans won their 4th straight game on the back of their run game and their defense. Playing with a lead from the getgo, the Texans took the ball out of Deshaun Watson's hands for the most part, and let Lamar Miller and Alfred Blue work the clock. Watson was just 12/24 for 139 and a TD against the Jaguars tough secondary, but more importantly, took care of the ball, going his first game this season without an interception. Lamar Miller carried 22 times for 100 yards and a TD, while Alfred Blue had 8 carries for 28 yards. As a whole, the offense was fairly stagnant, but avoided critical errors and took advantage of some short fields.
The defense forced 2 early Bortles fumbles, and held him to 5 yards per attempt before he was benched for Cody Kessler. Kessler had a bit more success, but was still sacked 4 times and intercepted once. Jadeveon Clowney had 2 of those sacks, while Tyrann Mathieu had a sack and an interception.
Injuries and Inactive Watch
WR Keke Coutee (hamstring) – left game, DNR, doubtful
Predictions
What exactly has Houston done to merit being a 7 point favorite on a short week? They've won 4 straight, but have played 3 anemic offenses back to back to back in Dallas, Buffalo, and Jacksonville. Miami is not a bad football team, and arguably look better offensively with Brock Osweiler at QB. If Miami can make Houston play from behind, they will be in great shape. Controlling the ball with Kenyan Drake and Frank Gore, and allowing Osweiler some easy down and distances to work with will be advantageous.
We know Houston's offensive line is dreadful, and Miami has a bevy of edge rushers to take advantage of the Texans shortcomings. Deshaun Watson is very turnover prone, and Miami's secondary has 11 picks on the year. Home teams always have the advantage on Thursdays, and I expect Houston to win, but not by 7 points. Shop around and hop on this line early before it inevitably comes back to earth.
Final Pick: Miami (+7)