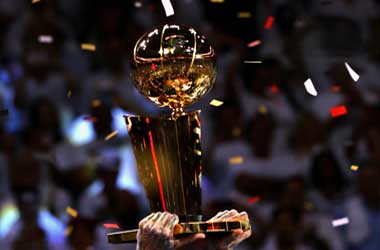 The NBA playoffs are in full flow and after weeks of action, we find ourselves with just four teams remaining in the push to win an NBA championship in 2021.
It's been quite the rollercoaster ride up to this point with big hitters and underdogs alike all falling away but through it all, fans have been glued to their TV screens with this being described as one of the best years of playoff action in recent memory.
Today, we'll be taking a look at the four franchises who will attempt to qualify for the NBA Finals from both the Eastern Conference and the Western Conference with the Conference Finals already being underway.
Unlike previous years there's no LeBron Jones or Stephen Curry here to make up the superstar numbers – and while there are plenty of big-name players left in the mix, this feels like the first time in a long time whereby new heroes are just waiting to be made.
The next generation is ready to break through and they're here to stay.
Best Online Sportsbooks To Bet On The NBA 2021: Conference Finals
* Odds have been provided by BetOnline and are accurate as of 22/06/2021
Eastern Conference Final: Atlanta Hawks vs. Milwaukee Bucks
(Wednesday 23 June, 20:30 ET, 1st Game)
The ECF is ready to produce a legitimate contender and between the Hawks and Bucks, we've got two rising stars ready and willing to push themselves to the limit in pursuit of glory.
Atlanta only has one NBA championship to its name stemming all the way back to 1958, whereas Milwaukee is hoping to recreate the glory days that ended in a triumphant 1971 title-winning year.
ESPN
Atlanta Hawks (5)
Everyone wants someone to look up to in this sport and we've got a feeling Trae Young will be able to carry that torch for the Atlanta Hawks. He's been putting together lethal combinations and elite-level play all throughout the playoffs, serving as an integral piece of the puzzle for a team that just doesn't know when to quit.
The Hawks looked as good as they have done in a long time in the first round with a nice 4-1 series win over the New York Knicks, but against the Philadelphia 76ers, they were forced to work for it. They had to stretch all the way out to a game seven before finally putting the nail in a 4-3 coffin.
Odds to Win: +360
Milwaukee Bucks (3)
Giannis Antetokounmpo, also known as "The Greek Freak", has been sitting back and waiting for his big moment in the spotlight instead of going out there and seizing it himself. Now, he's perfectly positioned to ascend to the top of the NBA mountain with a Milwaukee team that is overwhelmingly favoured to win this series.
Milwaukee didn't exactly feel any sense of panic in the first round with an emphatic 4-0 demolition of the Miami Heat. Alas, the Brooklyn Nets weren't about to lie down and take the same kind of treatment, pushing it to a game seven before the Bucks won it 4-3.
Odds to Win: -450
Prediction
The Atlanta Hawks aren't just going to allow the Milwaukee Bucks to have their coronation without a struggle, which is why we think they'll win the first game of the Conference Finals. Then, though, will come the Milwaukee surge that we're expecting, with the Bucks finally beating the Hawks 4-2 to progress to the NBA Finals.
Western Conference Finals – Los Angeles Clippers vs. Phoenix Suns
(Tuesday 22 June, 21:00 ET, 2nd Game)
It's time for a forgotten dark horse to finally step out of the shadow with the Clippers and Suns both being within touching distance of a long-awaited prize.
Los Angeles is a city that has been utterly dominated by the Lakers throughout the course of this league's history, with the LAC having no championships to their name and just two division titles. Phoenix, on the other hand, has won two conference titles but hasn't quite been able to win the big way.
NVB TV
Los Angeles Clippers (3)
It's going to take a considerable amount of time before the Clippers are viewed as the A-side in Los Angeles and it may never even happen, but they'll be hoping someone like Kawhi Leonard will stick around to try and get them over that finish line. His injuries could harm him in this series but in an overall sense, he's invaluable.
The Dallas Mavericks have a lot of heart and if the Clippers didn't know that before, they certainly did when they were given a game seven scare before just about progressing to the Conference Semifinals. At that point, as the fourth-seed underdogs, they had nothing to lose, and they showcased that mentality with a 4-2 series win over the Utah Jazz.
Odds to Win: +315
Phoenix Suns
Behind every great team is a player willing to put it all on the line in the pursuit of glory – and if that isn't Devin Booker, then we don't know who it is for the Phoenix Suns. He's already been busting a gut for Phoenix all season long and even in the depths of the playoffs, he refuses to take his foot off of the gas.
It's safe to say we've all come to learn that messing with Phoenix probably isn't a good idea. In the first round, they barely broke a sweat in beating the Los Angeles Lakers, and in the Semifinals, they walked through the Denver Nuggets in a 4-0 shutout.
Odds to Win: -385
Prediction
We tend to think this one could get a little bit embarrassing for a Clippers side who just doesn't know what to do when they're put in this kind of position. They've definitely put a plan in place that'll give them a nice platform in the next few years but now isn't their moment to shine.
Instead, the Phoenix Suns will light up the night sky in the desert with another 4-0 victory to set up a date with the Bucks.