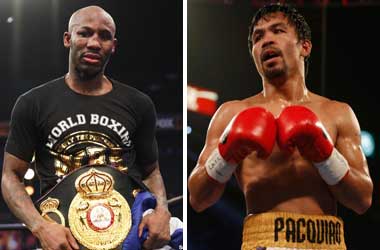 The WBA super welterweight boxing title will be on the line this weekend as Manny Pacquiao prepares to return to the squared circle for the first time in over two years.
The 42-year-old icon of the sport will clash with Yordenis Ugás in a short-notice bout with the contest being set to take place at the T-Mobile Arena in Las Vegas, Nevada.
This fight, though, initially wasn't supposed to be on the cards at all, with Pacquiao originally being scheduled to fight Errol Spence Jr. in what many viewed as a potential "passing of the torch" kind of moment. However, an injury to the left eye of Spence Jr. has ensured that'll no longer take place, with Pacquiao now coming up against a man who believes he has earned the right to take on such a mammoth task.
Best Betting Sites To Bet On WBA Super Welterweight Fight
Premier Boxing Champions
Last Fights
Manny Pacquiao is a busy man these days between boxing, media and political commitments, but that doesn't mean he isn't still a warrior at heart. "Pac-Man" was last able to showcase that in July 2019 which was his second professional contest of that year, this time against Keith Thurman which we previewed. Everyone knew Manny was going to be in for quite the scrap but instead of letting that get to him, he bit down on the mouthpiece and really took it to Thurman – eventually getting his hand raised via split decision.
On the flip side, you've got Yordenis Ugás who competed just under a year ago in September 2020. The fight came against Abel Ramos and it went down in Los Angeles, with a split decision win for Ugás being the end result. Many felt as if it was a clear, but narrow, win for Ugás, but one judge confirmed the worries of many regarding boxing judging by heavily scoring the fight in favour of Ramos.
It's hard for a lot of fans not to feel let down by the lack of Pacquiao/Spence this month but if they wanted to see a showpiece event that broke away from the ongoing "celebrity YouTube" trend, this should serve as a nice return to normality, even if just for one night.
Things to Watch For
* Odds have been provided by BetOnline and are accurate as of 16/08/2021
Manny Pacquiao (62–7–2)
Current Odds: -360
The idea that Manny Pacquiao is the greatest of all time is an exaggeration in the minds of many, predominantly because he's had a few big blemishes on his record – with the most "historic" being a defeat to Floyd Mayweather in 2015. Still, instead of walking away off the back of a loss, Pacquiao decided to show the world what it means to stand up and be counted in the face of adversity.
The veteran is best known for his lightning quick hand speed and efficiency in the ring but he's expected to take on a different approach here, especially in a short notice affair. Manny wants to protect himself at all costs whilst turning on the flair if absolutely necessary and given how much preparation has been put into this comeback, we'd say he's in a fairly solid position with regards to what he can accomplish on Saturday night.
Yordenis Ugás (26–4)
Current Odds: +285
There's a built-in story here for Yordenis Ugás given the fact that he was promoted to the role of WBA super champion as a direct result of Pacquiao being stripped of the title due to inactivity. That factor alone isn't going to be enough to get Pacquiao's juices really flowing with a burning hatred for Ugás, but on the flip side, the 2008 Olympic bronze medalist knows how much is on the line here.
He's looking towards the final few years of his prime at 35 years of age with some believing he's already over the hill, but we're talking about someone who essentially has a free shot at greatness. Nobody can pinpoint how good or bad Pacquiao is going to be after more than two years away from the squared circle, whereas Ugás knows how to grind out a nice win – even if it isn't the most visually pleasing spectacle for neutrals.
Prediction
The "stick and move" game plan is probably going to be implemented quite heavily by Manny Pacquiao in a fight that should have a whole lot of unknowns attached to it. After all, Ugás isn't known for coming out swinging in the hope of landing one big punch, and while Manny needs to be prepared for that eventuality, it should be easy enough for the Filipino hero to pick Yordenis apart if that situation arises.
Every boxer needs to convince themselves that they're the greatest competitor known to mankind if they're going to be motivated enough to step between those ropes. Unfortunately for Ugás, trying to pick apart someone like Manny Pacquiao in a technical masterpiece is often reserved for the truly elite in this game.
The first thing to anticipate here is that a finish should be quite unlikely within the boundaries of what we know about both men. If Pacquiao is really feeling himself then the last few rounds could get a bit suspect for Ugás, and that's true regardless of what he wants to do after this fight.
Manny may want to ride off into the sunset or he may want to make it known to the rest of his rivals that he's up for another challenge. In both scenarios, he may ditch being conservative in favour of sending the fans home happy.
Las Vegas is going to light up for this kind of boxing match and it's nice for Yordenis Ugás to be put on such a platform.
Alas, a unanimous decision win for Manny Pacquiao, in the words of the great Thanos, "it is inevitable".