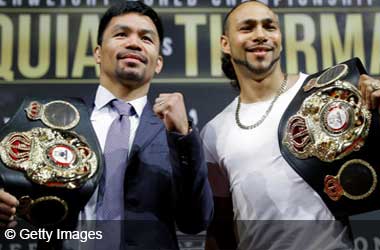 WBA welterweight champion Keith Thurman (29-0-1 NC, 22 KOs) defends his title against Manny Pacquiao (61-7-2, 39 KOs) at the MGM Grand on Saturday night. Thurman, fighting out of Clearwater, Florida, will be fighting only his second fight since March of 2017. Pacquiao will be in his 4th fight since the beginning of 2017.
The biggest storyline of this fight is Keith Thurman taking the big money fight in 40-year old Manny Pacquiao, where he will actually be a +115 underdog in the fight. Undefeated boxers in a situation like Thurman are not very eager to take fights where they are seen as the underdog, especially considering that he is coming off of a major injury and didn't look too sharp in his return.
On the other hand, you have to question why Manny Pacquiao took this fight and there are really one of two reasons. He must either want/need the money, which seems like it should be unlikely as a fighter that has earned an estimated 220 million dollars over his career, but you never know how people have handled their wealth.
Best Betting Sites To Bet On WBA (Super) welterweight Fight
The other reason to take this fight is that Pacquiao and his camp feel like it is an opportunity to face an elite opponent that would raise his legacy up another level. Barring money concerns, the only reason Manny should take this fight is under the assumption that he and his camp think that Keith Thurman's last performance was telling about what is to come. Beating an undefeated WBA champion who is just 30 years old would be another great mark to put on his resume.
Pacquiao doesn't need legacy building fights at this point in his career just to lose and go out with his tail between his legs. Pacquaio wants to go out as an all-time great and winning fights like this is what would do that for him. I think there is a lot of merit to the idea that Pacquiao would only take this fight if he was very confident he would win it.
Motivedia – Boxing
Things to Watch For
This fights sets up to be a really close match for a championship level fight and we have two great knockout artists in the boxing welterweight division. This elite power should be on display all night, but I think that the most important thing to watch in the early rounds is Thurman's comfort level.
Thurman started off his last fight very well, winning the first 5 rounds on the majority of scorecards. However, he started to fade towards the end of the fight, which is not something you typically expect from an elite fighter that is listed at -10000.
I think that it is possible that Thurman's overall resume bought him some time with Josesito Lopez to pick him apart early and secure the victory in points before Lopez really got comfortable. I do not think that Manny will go into the fight scared of Thurman, which could spell trouble for Thurman if he doesn't look better late. Thurman rode a head start to a victory last time, but Pacquiao will likely look for blood early and often here.
To add on to the importance of the early rounds, Thurman is the bigger and longer boxer, which should give him an advantage in the earlier rounds when the fighters are feeling each other out. If Thurman does not look great early, I am really concerned for his ability to finish the fight if he cannot secure a knockout.
Pick and Prediction
I like Manny Pacquiao in this fight by late stoppage or decision. Thurman's lack of fluidity late in his last fight is just too concerning to ignore here. I think Pacquiao steals a few rounds early and pours it on in the last few rounds to take home the belt at -145.