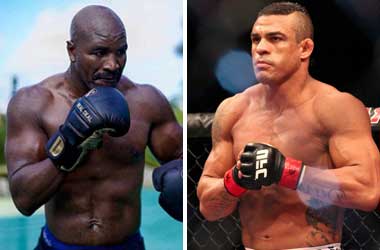 On September 11 in Florida, mixed martial arts legend and former UFC champion Vitor Belfort will step into the squared circle to take on heavyweight boxing icon Evander Holyfield.
The two men are set to meet under the Triller Fight Club umbrella in what will be the latest in a long line of blockbuster crossover bouts, many of which have garnered significant interest from casual fans around the world.
This wasn't the plan of action for anyone involved from the opponent to the destination but somehow, someway, we've got a main event boxing match scheduled and booked for this weekend – for better or worse.
Best Betting Sites To Bet On The Thriller Fight Club Legends II Bout
What was supposed to main event the card?
For a few months now fans had been gearing up to see Vitor Belfort go one-on-one with the always controversial Oscar De La Hoya. It was set to be the first competitive appearance for De La Hoya since a defeat to Manny Pacquiao 13 years ago but unfortunately, DLH had to pull out as a result of a positive COVID-19 test. The hope was always that Belfort would be kept on the card in some form and that came to fruition with Holyfield coming into the mix.
California had been slated as the state to host the initial fight but as a result of them not sanctioning Holyfield in time, it was instead shifted to the east coast of the country with Florida taking the reins.
TMZSports
Things to Watch For
* Odds have been provided by GTBets and are accurate as of 07/09/2021
Evander Holyfield (44-10-2)
Current Odds: -130
Once upon a time 25 years ago, Evander Holyfield was one of the most feared men in all of boxing. He was getting in there against the likes of Mike Tyson, Buster Douglas, Lennox Lewis and so many more and, more often than not, he was putting on a pretty great display. His last outing came as recently as 2011 against Brian Nielsen with the bout proving that he could still go out there and compete with the very best of them.
At the age of 58, it's tough to think many will enjoy seeing Holyfield in this position but at the end of the day, if it's going to make money, people are going to book it. If he can recapture any of the magic he once had then perhaps we could all be in for something of a surprise on Saturday night.
Vitor Belfort (1-0)
Current Odds: +100
Vitor Belfort's one and only professional boxing appearance took place way back in 2006 when he knocked Josemario Neves out down in Brazil. Predominantly, though, he's a mixed martial arts maestro who has been able to make some serious waves in the UFC, PRIDE and even Affliction. "The Phenom" is 44 years old now and may not possess the power he once did but you can see how passionate he is about this project and the idea of fighting a legend.
It's all about testing himself and acquiring the kind of payday he believes that he deserves, and for those reasons, we salute Vitor.
Co-Main Event: Anderson Silva vs Tito Ortiz
Anderson Silva (2 – 1 – 0) : -870
Tito Ortiz (0 – 0 – 0): +620
Just a few short months ago we saw Anderson Silva shock the world with a somewhat dominant win over Julio Cesar Chavez Jr in a boxing match – in his mid-40s, no less. "The Spider" was so impressive that questions were asked about what he could do against some other fun opponents, and in the end, the fight we wound up with was Anderson Silva vs Tito Ortiz.
Ortiz sporadically climbs back inside the cage to fight in mixed martial arts but it's pretty rare to see someone like him, who was more involved in the world of politics this year than fighting, transition into boxing.
Most people are going to be actively cheering for Silva and whether you like it or not, that's just the way it is. Alas, the guy needs to go out there and put a rubber stamp on this whole thing because Ortiz is the sort of fighter who isn't going to go away so easily.
A technical masterclass from Silva that ends in a one-sided decision feels likely but counting out Tito has always come back to bite us in the past.
We'll go for a Silva win via UD but Ortiz could get off some nice shots – if he can cut weight successfully and make it to fight night, that is.
Prediction
It's hard to know whether this is going to be an absolute massacre on either end of the spectrum or whether this could turn out to be a competitive fighter but either way, it doesn't feel as if anyone is dying to find out the answer. Belfort has fight-ending power stemming back to his MMA days, but actually being able to translate that over into an entirely different combat sport could prove tricky.
Holyfield could try to stick and move but given his age and how much his speed has likely declined, he'll need to put in a near-perfect performance – with a whole lot of edits made to his game – for us to believe he can edge out the decision.
We tend to think this one is going to go all the way to the judges' scorecards, if only because it isn't going to have a whole lot of extended action sequences. We'll say Belfort takes it on a split decision with Holyfield likely feeling robbed as a consequence, but we don't envisage a scenario whereby this fight "helps" the celebrity boxing argument.
If anything it's probably going to hinder it and while we don't enjoy saying that, short-notice contests of this magnitude never tend to do as well as the masses are led to believe.