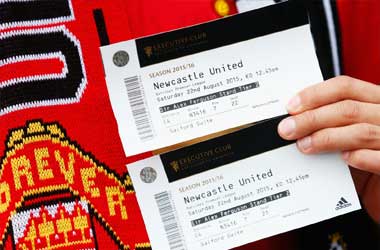 Summary
Football fans selling and giving away free Premier League tickets
Fans fearful of COVID-19 as they don't want to be quarantined
Multiple Premier League games cancelled over COVID-19
The United Kingdom (UK) has witnessed a big spike in COVID-19 cases throughout the country during the last couple of weeks. The COVID-19 spike has started to have a big impact on the Premier League as multiple matches have had to be cancelled.
Football fans who bought tickets are now fearful of attending these games as they are afraid they may catch COVID-19 and be force to quarantine over the Christmas holidays.
Many football fans don't want to take that risk as they prefer to spend time with their loved ones. As a result, they are going on social media to sell their tickets while some fans are happy to give away their tickets for free.
Before the new COVID outbreak, there was no restrictions for fans in stadiums. However on 15 December, the UK government issued new guidelines for stadiums that have more than 10,000 fans in attendance. Now fans who attend stadiums with more than 10,000 fans will have to show either a negative lateral flow test or proof of COVID-19 vaccination.
Premier League Cancelling Multiple Games
The Premier League has so far lost nine games due to COVID-19. Multiple players have tested positive for COVID-19 due to the increase in testing and they had to be quarantined. Yesterday a further four games set for the weekend were cancelled joining the the game between Manchester United and Brighton which had already been called off. There is a strong possibility that more Premier League games will be cancelled in the coming days as more players and support staff might test positive.
Even though the UK government has issued new guidelines to be followed in stadiums, it appears that a lot of stadiums are not following these guidelines. Fans reported on social media that they were not asked for proof of vaccination or a negative lateral flow test at Selhurst Park Stadium and Emirates Stadium in London probably as a result of the sheer number of people going to game and logistically making COVID passes impractical.
Anyone attending the game, just have your covid pass or negative test ready, they barely even check anything when you enter 🤷🏼‍♂️

— HønestGøøner (@H_Gooner49) December 15, 2021
So much for Plan B, no COVID pass check, got into the stadium within a minute and it is the earliest I've ever been inside! 😅, guess that calls for few photos! pic.twitter.com/6o4QsnSN6R

— Prateek Gupta (@prateekg1703) December 15, 2021
The Premier League issued a statement and said that they recognized that multiple clubs had COVID-19 cases but they want to continue playing and not break their schedule. There are rumours going around that nearly 25 percent of Premier League players have not been vaccinated, though this would not have prevented this situation for happening.
There is also pressure being imposed on the Premier League to suspend all games in 2021 and resume once again in 2022, though with a hectic schedule ahead – this may not be possible.