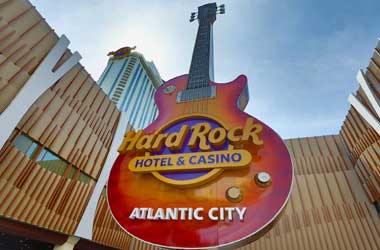 Things are going to get a lot more competitive for New Jersey's sports betting industry as Hard Rock International Atlantic City moves forward with its plans of launching sports betting services.
The New Jersey Division of Gaming Enforcement (NJDGE) recently gave Hard Rock AC a transactional waiver along with their partner Hillside New Jersey.
Hillside New Jersey which is an affiliate of Bet365 signed a partnership agreement with Hard Rock AC in June to proceed with sports betting services.
The recently ruling from the NJDGE allows these two parties to launch sports betting services in the Garden State even though they do not have a license approval as of now.
The transactional waiver is usually given when it is just a matter of time before the official license is approved.
Hard Rock
Obtaining a transactional waiver is important because Bet365 cannot conduct any business in partnership with Hard Rock AC without the waiver. New Jersey has made it a practice in recent years to issue transactional waivers as the process of obtaining full license approval can take a long period of time due to the red tape that one has to go through and meet stringent gaming regulations.
Bet365 is looking to obtain a Casino Service Industry Enterprise (CSIE) license in New Jersey which will allow its Hillside affiliate to provide good and services to casino operators in the state. The license will allow Hillside to offer a wide range of products including wagering equipment, slot machine distributors and gaming equipment.
Hard Rock – GIG Partnership
Hard Rock Atlantic City has also entered into a partnership with Gaming Innovation Group (GiG) who will serve as the main sports betting provider. The two companies signed a partnership agreement in October and expect to launch operations in early 2019. Bet365 will provide a skin to the Hard Rock Atlantic City sports betting market and will mark Bet365's entry into the New Jersey market.
New Jersey's sports betting industry has turned out to be highly competitive as betting operators have been eager to claim a piece of the lucrative sports betting market. New Jersey led the way in the fight against overturning the PASPA 1992 Act that banned sports betting. The Supreme Court repealed PASPA in May 2018 and New Jersey legislators wasted no time in getting their sports betting industry up and running.