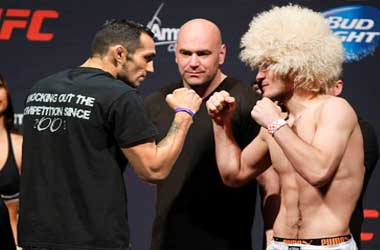 The Ultimate Fighting Championship (UFC) was one of the few sporting organizations in the world that continued to function as normal even with the COVID-19 concerns mounting. The number one mixed martial arts promotion in the world held its UFC Fight Night in an empty stadium in Brazil on March 15.
The UFC was prepared to proceed with all of its events as per planned because UFC President Dana White made the decision to hold these events in empty stadiums and the fighters were happy to oblige.
The UFC had fight night cards on March 21, March 28 and April 11 followed by UFC249 on April 18.
The UFC decided to move the next 3 events to its Apex Facility in Las Vegas and do it without having any fans in attendance. However, the UFC had to scrap those plans after the Nevada State Athletic Commission (NSAC) issued an order suspending all combat sports till further notice. The UFC had no option but to postpone these three fight night cards to a later date.
Boxing & MMA Empire
The big question that MMA fans want an answer for is whether UFC249 will proceed as per plan. The Main Event at UFC249 is UFC lightweight champion Khabib Nurmagomedov defending his belt against the number one contender Tony Ferguson. The UFC has tried to make this fight for a number of years and has scheduled the fight on four different occasions.
The fight never took place as Khabib pulled out twice due to injuries and Ferguson also pulled out twice due to injuries. Some MMA fans believe that this fight is jinxed and it will never happen but Dana White is adamant to prove these superstitions wrong!
White confirmed that no matter what happens Nurmagomedov vs. Ferguson will not be cancelled.
UFC249 Could Be Moved Outside The U.S
The UFC did not have a lot of time to reschedule the three fight night cards but there is still a month left for the UFC to make plans to host UFC249. White has said that if the situation does not change in the coming days, the UFC will look at hosting this card outside the United States.
The most likely location will be the Middle-East and Saudi Arabia will be at the forefront. Khabib Nurmagomedov is arguably the biggest superstar in the Muslim world and the Saudis will be keen on hosting a UFC pay-per-view event!