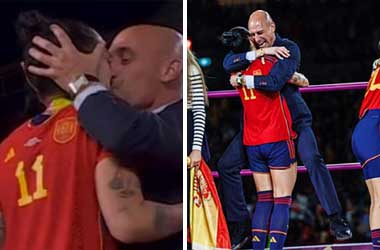 Summary:
Royal Spanish Football Federation wants Spanish football President to step down over 'kissgate'
Luis Rubiales has so far resisted the calls for him to resign
Rubiales's mother is reported to have gone on a hunger strike to protest the unfair treatment being dished out to her son
Spain's brilliance at the 2023 FIFA Women's World Cup has been overshadowed to a certain extent by the 'kissgate' scandal. Spain ended up beating England in the final on August 20 at Stadium Australia in Sydney to win their first ever Women's World Cup.
Luis Rubiales, President for Spanish football was caught on camera celebrating the victory by hugging and then kissing Jennifer Hermoso who would later say she did not like what Hermoso did.
Luis Rubiales Problems Mount
The 'kissgate' scandal refuses to die down even after a week as there have been protests across Spain for Rubiales to step down from his role as President. The Royal Spanish Football Federation (RFEF) carried out a very long meeting in Madrid on Aug 28 and at the end of the meeting, released a statement demanding the resignation of Rubiales.
RFEF which is made up of presidents from the regional bodies of football across Spain released a statement
After the latest developments and the unacceptable behaviour that has caused great damage to the image of Spanish soccer, the presidents request that Luis Rubiales resign immediately as president of the RFEF.
Audiencia Nacional which is the top criminal court in Spain will also have to look into a preliminary investigation launched by prosecutors who want the court to examine the facts regarding possible sexual assault. Multiple groups of Spanish protestors also took to the street to protest Rubiales's decision to not resign.
Mother Decides To Go On A Hunger Strike To Save Her Son
Media reports state that Rubiales mother has decided to come to her son's defense by locking herself in a church and stating that she would begin a hunger strike to stop her son from being falsely accused.
While the media have portrayed it as a hunger strike, Demeiza Bejar Sanchez who is a cousin to Rubiales stated that this was a normal and logical reaction from a mother who wanted to fast and pray to seek God's help to stop a blood hunt against her son and the pressure on him to resign!