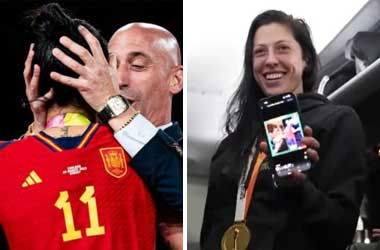 Summary:
New video footage has been submitted to FIFA concerning the kissgate scandal in Spain
Video footage alleged to show Spain's women's football team joking and having fun over Jennifer Hermoso's kiss
Rubiales mother taken to hospital after 3 day hunger strike to protest against her son's unfair treatment
RFEF President Luis Rubiales has refused to step down from his role even as the pressure from the 'kissgate' scandal at the 2023 FIFA Women's World Cup final refuses to go away.
Rubiales got himself in trouble after kissing star player Jennifer Hermoso on the lips as the team celebrated their FIFA World Cup win over England.
New Video Footage Shows Players Were Joking
Luis Rubiales initially tried to downplay kissing Jennifer Hermoso on the lips by saying it was done in a moment of affection by two people and idiots were trying to make something out of nothing. However, Hermoso added fuel to the fire by doing an Instagram livestream and stating that she did not agree to being kissed on the lips.
There have been calls from multiple fronts for Rubiales to resign but he refuses to do so, claiming that he did nothing wrong. There are now reports that new video footage of an incident after 'kissgate' which has been sent across to FIFA and it could end up making a stronger case for Rubiales, though we have our doubts here at legitgambling.com that will be the case.
The new video footage shows Hermoso on the Spanish team bus showing her teammates video footage on her phone of Rubiales kissing her on the lips. Hermoso is laughing while she shows her teammates this footage which results in multiple Spanish players chanting the words 'Beso, Beso'. The words 'Beso, Beso' in English is 'Kiss,Kiss'!
The footage shows another player laughing and saying 'Like Iker and Sarah' referring to the 2010 FIFA World Cup in South Africa which Spain's football men's team ended up winning. After the win, Spain's Iker Casillas ended up kissing reporter Sara Carbonero on her lips but Carbonero was Casillas's 'secret' girlfriend at the time. He has since regretted his actions at the time and the embarrassment his other half faced due to the incident.
When Rubiales got on the team bus and heard the ladies chant 'Beso, Beso', he asked them to stop stating that it was making him blush!
Rubiales Mother Taken To Hospital
Rubiales's mother Angeles Bejar who started a fast in a church was taken to hospital after three days by emergency services. Bejar wanted to go on a fast to save her son and get the truth to come out. With the new video footage surfacing, will her prayers be answered!