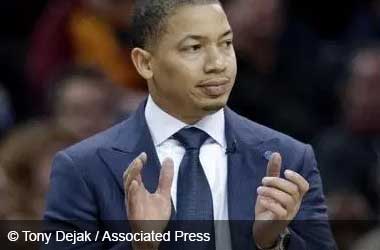 The Cleveland Cavaliers started the last four seasons as one of the favourites to win the NBA Championship as they had LeBron James leading the attack and head coach Tyronn Lue plotting out game plans. The Cavaliers went on to four straight NBA Finals and won the 2016 NBA Championships.
For the first time in four years, the Cavaliers were not one of the favourites as they entered the new season. Their core team was no longer together with LeBron James signing with the LA Lakers.
The Cavaliers had a horrible start to the season and found themselves with a 0-6 record and no answers on how to turn things around.
Dan Gilbert who owns the Cavaliers and general manager Koby Altman took the decision to give head coach T Lue his walking papers. Lue signed a new contract with the Cavaliers in 2016 and will need to be paid around $15 million in severance pay.
In a statement, Altman said
This was a very difficult decision. It is especially so, considering Coach Lue's time with us over the last four years, including four straight trips to the NBA Finals. This is a different team equation, though, and one that we felt needed a different voice and approach that required this change.
The Cavs have decided to promote and appoint Larry Drew as the interim coach. It is interesting to note that when T Lue took a break last year due to his health, Drew had an 8-1 record but then again LeBron James was carrying the Cavaliers.
Chris Smoove
Former & Current Players Praise Lue
T Lue has done a lot for a number of players during his time with the Cavs and they all showed him respect and love. LeBron James took to Twitter to thank his former head coach for the memories they shared and their partnership which helped the Cavs win the 2016 NBA Championship.
T Lue thanks for the memories and more importantly our partnership bringing a 🏆 to that deserved city/fan base. U know how to find me 🙏🏾

— LeBron James (@KingJames) October 28, 2018
Kevin Love who plays forward for the Cavs thanked Lue for life changing experiences and lessons that helped him see the big picture. LA Clippers head coach was upset at the way Lue was treated by the Cavaliers but at the same time happy at the way Lu conducted himself after hearing the news.
GM Altman believes that it is time for the Cavs to focus more on young talent and bench the veterans, something that Lue wasn't really in agreement with. The interim head coach will now have his chance of rebuilding the Cavs.