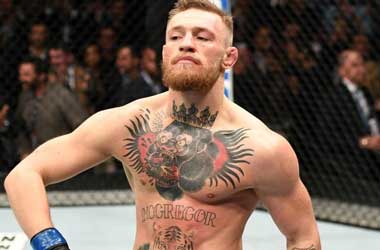 Summary
Conor McGregor continues to lash out on social media over allegations
UFC fighters alleged that McGregor is using steroids
Former friend Artem Lobov is suing McGregor over his Proper 12 whisky
Conor McGregor hasn't fought in the UFC since breaking his leg during his TKO loss to Dustin Poirier in July 2021.
McGregor does not need to fight anymore as he has thriving businesses with his Proper 12 whiskey, Black Forge pub in Dublin and his numerous endorsements.
McGregor Continues Crazy Antics On Social Media
However McGregor is keen to return to the Octagon and continues to post videos on Instagram showcasing a physique that looks massive. McGregor also pulled himself out of the United States Anti-Doping Agency (USADA) testing pool which caused speculation on social media that he was using steroids.
Former UFC lightweight title challenger and commentator Anthony Smith took a shot at McGregor and claimed he was juicing. McGregor did not waste any time on lashing out at Anthony Smith with a string of abuse but at the same time he did not denounce those rumours and claim that he was clean.
This rat spoke to weidman who'd the same horrific injury and is having severe complications still, is bothered that I was able to heal/return to a normal way of life. He, like many other rats in my game, would be happier if I wasn't able to play with my children the same again. pic.twitter.com/TaMeYVzmOD

— Conor McGregor (@TheNotoriousMMA) November 26, 2022
McGregor called Anthony Smith a rat and said he was a loser who was part of a community who would secretly like to see McGregor's downfall.
The audacity of this loser! @lionheartasmith you're a loser. The % of the bones joining back after a break like this is so low. You think I give a fuck about anything else. I am the most tested fighter all time in combat sport. I give everything to this game.
You – Nothing!

— Conor McGregor (@TheNotoriousMMA) November 26, 2022
McGregor also continues to taunt former UFC lightweight champ Khabib Nurmagomedov who submitted him, accusing him of being afraid and retiring to not fight him again!
McGregor's also released an audio clipping calling his former close friend Artem Lobov a rat. Artem filed a lawsuit against McGregor claiming that the Proper 12 whiskey idea was his idea and McGregor did not compensate him for the same. McGregor is reported to have offered Artem $1 million which Artem turned down.
— Conor McGregor (@TheNotoriousMMA) November 26, 2022
Former UFC featherweight champ Cris Cyborg tweeted and called McGregor "pathetic" for calling Artem a rat! McGregor then went after Cyborg calling her "an abomination" and told her to "shut her pie hole".
W Conor pic.twitter.com/fagIUjcyHO

— FullCombat (@FullCombat_) November 26, 2022
McGregor Continues To Lose Respect With MMA Community
McGregor is the richest fighter and the most popular fighter in the history of MMA. However, he no longer commands the respect that he once had as the MMA community due to his behaviour outside the Octagon and his social media antics.
Some MMA fans suggest that McGregor has never been the same after his loss to Khabib Nurmagomedov and that continues to eat at his mental health causing these repeated outbursts of anger and vile behaviour.