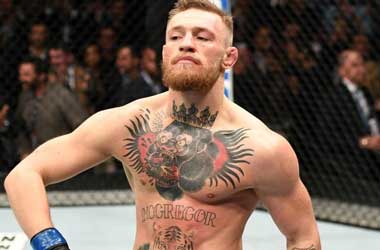 Conor McGregor who is still arguably the biggest superstar in MMA decided to retire on Twitter in the middle of UFC250 which took place on 06 June. McGregor's sudden retirement made headlines throughout the world and took some of the shine of UFC Featherweight champ Amanda Nunes's Main Event win over Felicia Spencer.
This is the third time that Conor McGregor has decided to retire from the game and this time around most MMA fighters do not take his retirement seriously and even if he is serious not many care including UFC President Dana White.
There is no doubt that between his MMA career, his blockbuster fight with Floyd Mayweather and his Proper 12 Irish Whisky that McGregor has made piles of cash and is set for life. He does not have to fight for money anymore. However, McGregor not only loves the spotlight and fame but he loves fighting.
He was keen to fight as many as three times in 2020 and has been training hard. His social media posts show that he is in fantastic shape and was keen on fighting for the UFC interim lightweight title. McGregor was pushing the UFC to schedule a fight with current interim champ Justin Gaethje but the UFC has other plans as they want to set up a fight in September between Khabib Nurmagomedov and Justin Gaethje.
Hey guys I've decided to retire from fighting.
Thank you all for the amazing memories! What a ride it's been!
Here is a picture of myself and my mother in Las Vegas post one of my World title wins!
Pick the home of your dreams Mags I love you!
Whatever you desire it's yours ❤️ pic.twitter.com/Dh4ijsZacZ

— Conor McGregor (@TheNotoriousMMA) June 7, 2020
Conor does not want to wait around for so long and he wants his next fight to be for the belt. The UFC is not giving into his demands anymore because McGregor hasn't fought a lot in the last 3 years and the UFC has moved on from McGregor even though he is by far their biggest superstar.
McGregor Losing Respect With Peers
MMA fighters hold McGregor in high regard for what he has done in the past in changing the sport and raising the bar in terms of what an MMA fighter can make. However, most fighters have lost respect for McGregor because of his antics outside the cage and also because he has never defended his UFC featherweight or lightweight titles even once.
SPORTSNET
Justin Gaethje believes that McGregor had a few too many before announcing his retirement while Ali Abdelaziz who manages both Gaethje and Nurmagomedov told McGregor to sit down and watch the two best lightweights battle it out and reminded him that he turned down the fight against Tony Ferguson which Gaethje took and won to become the interim champ!