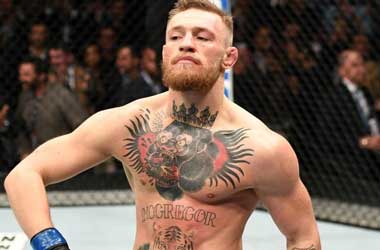 Conor McGregor is taken a hiatus from fighting in the UFC Octagon but that hasn't stopped him from throwing punches outside the Octagon. McGregor sucker punched an elderly man at an Irish pub, for allegedly not accepting the boxer's offer to drink free Proper No. Twelve whiskey.
The one-sided melee happened at Dublin's The Marble Arch pub on April 6 but the video footage was released by TMZ on 15 August. The leaked CCTV footage shows McGregor handing out cups of his Proper No. Twelve to bar patrons before stopping squarely in-front of the Irish pensioner. The man reportedly refused the prize fighter's whiskey offer twice.
McGregor, triggered by the rebuff, downed a shot of his whiskey before uncorking an unexpected shot to the elderly man's head. The boxer was immediately grabbed by personnel and escorted out of the bar. It is unclear if the two men exchanged barbs, triggering McGregor's infamous temper.
According to The Irish Sun, authorities have already seen the footage. Law enforcement from the Sundrive Road Garda station in Crumlin began their investigation in April after receiving a complaint from Irish senior who was punched. McGregor may be facing Section Two Assault charges. However, there is no official report of McGregor being charged for the April attack.
TMZ
While the negative publicity is definitely bad for McGregor, it is getting his Proper Twelve Irish whisky a lot of attention.
McGregor's List Of Violent Outbursts
The former UFC featherweight and lightweight champion hasn't fought in the UFC since a devastating loss to Khabib Nurmagomedov in October 2018. However, this hasn't stopped McGregor from acting like a thug outside the Octagon.
The boxer narrowly dodged felony charges in New York in April 2018 after he smashed the side window of a bus with a dolly at the Barclays Center prior. His attack injured a number of UFC fighters including Michael Chiesa and Ray Borg who had glass pieces enter his eye.
In a plea agreement with the Kings County Supreme Court in Brooklyn, McGregor agreed to complete an anger management program and hours of community service at local churches, in addition to paying restitution to the victims of his outburst.
Just one month before the Dublin incident, Conor McGregor was videotaped snatching a phone out of a fan's hand in Miami, Florida. He would then throw it on the ground and stomp on it repeatedly. McGregor was apprehended for robbery and criminal mischief by Miami police but was eventually released on bail. The charges have since been dropped, with the victim opting to settle out of court.
McGregor has also been accused of sexually assaulting a woman in Dublin, Ireland back in December 2018. He hasn't been charged with a crime yet. From the way things appear, it looks like McGregor needs to get back into the Octagon at the earliest and take out his frustrations and trained UFC fighters rather than the general public.