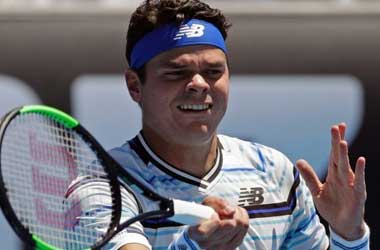 The 2018 Australian Open started this week and most Canadian tennis players had tough opponents in the opening round. Canadian tennis fans were pinning their hopes on their two biggest stars in Milos Raonic who entered the tournament as the 22 seed and young Denis Shapovalov who had a great year in 2017.
Milos Raonic is still considered by many to be Canada's best tennis player in the men's division even though his ranking has dropped from number 3 in 2016 to number 24 in 2018.
He was one of the Canadian players who was supposed to have an easy first round as he was facing unseeded Slovakian Lukáš Lacko.
Raonic who skipped the 2017 U.S Open due to wrist injury did not look his usual self and Lacko was quick to seize his opportunity and cause a major upset by eliminating Raonic in the first round, winning 6-7 (5), 7-5, 6-4, 7-6 (4). This was the first time in 7 years that Raonic has lost in the first round of a grand slam. His last first round eliminated was in the 2011 French Open.
While Raonic had a bad day at the office, young Denis Shapovalov had no such problems in disposing Greece's Stefanos Tsitsipas. Shapovalov continued his impressive form and won in straight sets finishing Tsitsipas 6-1, 6-3, 7-6 (5). The Canadian tennis pro won 5 out of the 8 break points he had and sent down 33 winners and 9 aces to start his 2018 Australian Open with an impressive performance.
In a statement, Shapovalov said
I think I played extremely well today. I felt from the warm- up that I was feeling the ball really clean and I was able to get the lead right from the start. I thought maybe he would start off tight and that's what happened and I was able to maintain it really well
Shapovalov started out in 2017 with a ranking at 250 and started 2018 with a ranking at 50. He will now face Jo-Wilfried Tsonga who is the 15th seed in a tough second round match.
When it comes to the women's division, Canada's hopes rest on Eugenie Bouchard. She had a tough match against Océane Dodin in the first round and go through winning 6-3, 7-6(5) but will face a tough challenge in the second as she will most likely have to play the number one seed Simona Halep.
Australian Open TV
Some of the other Canadian tennis players battling it out in the Australian Open are Vasek Pospisil and Peter Polansky who also have tough opening rounds.