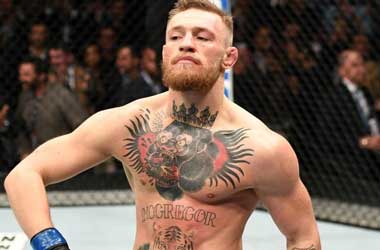 UFC Superstar Conor McGregor isn't making news for his fights in the Octagon but rather for the trouble he is getting himself into outside the Octagon. Miami Beach Police arrested McGregor on Monday night and slapped two felony charges on him for strong armed robbery and criminal mischief.
It is never a good thing when you get in trouble with the police and always a bad thing when you get hit with a felony charge.
McGregor got into trouble when a fan tried to take a photo with him even though he wasn't very keen on taking the photo. The 22 year old fan went ahead and tried to take the photo with McGregor on his mobile phone.
Conor McGregor wasn't happy with this and decided to slap the phone out of the fan's hand. To make matters worse, McGregor then decided to stomp on the phone before picking it up and walking away with it. The fan decided to call the authorities as he reported that his phone was estimated to be around $1,000.
Miami Beach Police went to the address where McGregor was staying, arrested him and charged him with criminal mischief and strong armed robbery – both felonies.
MBPD has arrested and charged Conor McGregor, DOB: 7/14/88, with Strong Arm Robbery and Criminal Mischief, both felonies. Please see arrest report and booking photo below. No additional information will be provided. pic.twitter.com/9HdkRWPnd8

— Miami Beach Police (@MiamiBeachPD) March 12, 2019
He was later released after posting bail of $12,500. His legal team played down the matter by issuing a statement.
In a statement, attorney Sam Rabin said
Last evening, Conor McGregor was involved in a minor altercation involving a cell phone that resulted in a call to law enforcement. Mr. McGregor appreciates the response of law enforcement and pledges his full cooperation.
CBS Miami
Could McGregor's Visa To The US Be Suspended
Those who follow Conor McGregor and the UFC will know that this is not the first time that McGregor is getting himself into trouble with the authorities on US soil. He was arrested in New York last year after launching an attack on a UFC bus at the Barclays Center. McGregor was told to stay out of trouble and have a clean record for the next 12 months, attend anger management classes and do 5 days of community services.
Given the fact that McGregor is once again in trouble with the law and this time on two felony charges, it will be interesting to see what stance US authorities take on his visa and letting him back in the country!