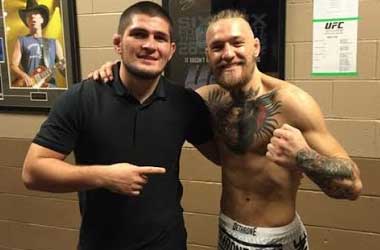 MMA fans were looking forward to the first official UFC 229 press conference featuring UFC Lightweight champion Khabib Nurmagomedov and Conor McGregor. The UFC made sure that they prevented the public from getting in on the presser as they did not want anyone in the audience provoking McGregor or causing trouble.
The former UFC Champion looked unsure of himself as he tried different strategies to shake Nurmagomedov's confidence but did not succeed in getting under the Dagestani's skin. McGregor targeted the integrity of Khabib's father, questioned him for not drinking whisky, accused him of having a glass chin, berated him for his poor English, alleged that he took money from a Russian millionaire who was now in jail and claimed repeatedly that he disrespected Russian President Vladmir Putin.
The entire tirade of McGregor's verbal assault was filled with foul language, numerous attempts of him getting up and jumping from his chair to try and fight Nurmagomedov who looked stoic at the other, calm and sure of himself. McGregor has always dominated press conferences and got under the skin of his opponents but this time around he failed and came across as an uncouth, classless and drunk MMA fighter.
ESPN
Conor – Anything But 'Proper'
McGregor came out holding a bottle of his recently launched 'Proper Twelve' Irish Whisky and used the press conference to repeatedly promote his Whisky. He also proceeded to pour a glass for himself, UFC President Dana White and his opponent Khabib – who does not drink. 'The Notorious' one would finish all three glasses during the presser and his behaviour was anything but 'Proper'.
UFC President Dana White was unable to control McGregor during the presser as the Notorious one continued to prove why he is a poor role model for young MMA fans. McGregor stated that he was glad the bus doors did not open during his attack on Nurmagomedov earlier this year as otherwise he would have killed him and gone to prison. White has given McGregor a lot of leeway over the years claiming that Conor has done a massive amount to build the UFC and turn it into the company that it is today. However, he is a poor representative for the brand in terms of respect, class and being a role model to young fans.
Khabib Addresses Drunk McGregor
McGregor was clearly not 100 percent focused on the fight as he continued to promote his 'Proper Twelve whisky', his McGregor Fast fitness program, August McGregor clothing line and McGregor promotions during the presser.
Khabib was content to let the drunk McGregor spew his venom and make a fool out of himself. The Eagle later posted on Instagram
All alcoholics are waiting for one fate. All alcoholics will have the same end!