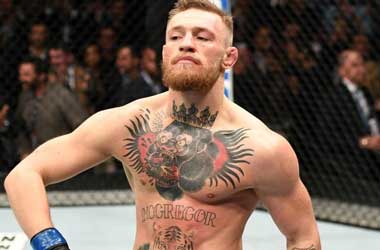 The UFC is making headlines this week by becoming the only sporting league in America to continue operations in the midst of the COVID-19 pandemic. The UFC staged a very successful UFC249 fight card on 9 May in Florida and will host two UFC Fight Night cards on May 13 and May 16 also in Florida.
Conor McGregor, the biggest star in MMA kept a close watch on UFC249 as the Main Event was a lightweight title fight for the interim belt. It turned out to be a fantastic fight between Justin Gaethje and Tony Ferguson that resulted in a win for Gaethje by TKO.
McGregor did not waste any time in trying to jump in and stake his claim for a title fight. The Irish superstar tweeted that he was willing to fight in July and would be open to fighting in an empty arena on fight island.
The fans make the sport!
Watching the other night I was against going in without them. But it will be my fucking pleasure to display the power I possess with zero background noise for them.
Its me and Justin next as khabib is the biggest bottle fighter in the game.
Guarantee it.

— Conor McGregor (@TheNotoriousMMA) May 11, 2020
This news comes as a big surprise to many because McGregor loves the adulation and adoration that comes with a packed stadium. Conor McGregor has also been very vocal about social distancing during COVID-19 and has given out a lot of free advice on twitter telling the Irish government on how they should run the country.
Release the 2km restriction May 5th.
Keep enforcement tight on any and all congregated groups.
Re open all businesses that can operate under new safety measures. Which is most. Where there's a will there's a way.
Only so long our hands can be held before we must go it solo!

— Conor McGregor (@TheNotoriousMMA) April 27, 2020
He is now willing to train and be ready for a lightweight title fight in July against Justin Gaethje, even though no one knows where 'fight island' is located. UFC President Dana White is not willing to reveal the location but has confirmed that hotel rooms and a fight arena is currently under construction.
TheMacLife
Will McGregor Get A Title Shot?
McGregor is still the number one superstar in MMA but he is no longer a champion and hence does not command as much respect as before. While he would like to challenge Gaethje for the championship, it is unlikely to take place next as Justin Gaethje holds the interim belt and is very keen on facing the real champ Khabib Nurmagomedov for the belt.
The fight between Nurmagomedov and Gaethje should be easy to make because they both have the same manager in Ali Abdelaziz, who reminded McGregor that he ducked the Gaethje fight earlier in the year to take on Cowboy Cerrone.
The only way McGregor gets a crack at Gaethje first is if Khabib is unable to fight in the next few months. This might be the case as Khabib's father has taken serious and is now in a coma fighting for his life in a Russian hospital.