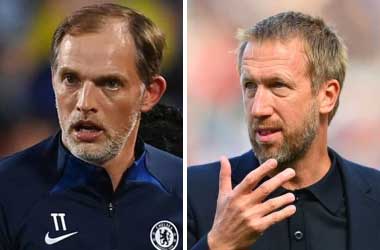 Summary
Chelsea's new owners have fired Tuchel after the club's Premier League defeat to Dinamo Zagreb
Tuchel reportedly didn't have a good relationship with Todd Boehly over transfer issues
Brighton's Graham Potter is among the top candidates to replace Tuchel
Chelsea is now on the lookout for a new head coach after parting ways with Thomas Tuchel. The club's new owner, Todd Boehly, sacked Tuchel after Chelsea's Champions League defeat to Dinamo Zagreb on September 6. It was Tuchel's 100th game in charge of the club.
According to reports, the German football manager was notified of the decision just a day after the match, during a meeting at Chelsea's Cobham training ground. Sources say Tuchel was taken aback by the news but accepted it amicably.
Why Was Tuchel Sacked?
A consortium led by Boehly had been successful in its bid to take over Chelsea, officially acquiring the club from its previous owner, Russian oligarch and politician Roman Abramovich, in late May under a £4.25 billion deal.
With the club now under new ownership, changes are inevitable. Tuchel may have been initially surprised that he would no longer be managing Chelsea but he most probably saw it coming.
According to sources, Tuchel's relationship with Boehly had become "strained" mainly due to Chelsea's transfer strategy with the decision to not sign Cristiano Ronaldo being one. Meaning, the decision to sack Tuchel may have already been made long before its Champions League match against Dinamo Zagreb on September 6.
Potential Replacement
With Tuchel now out, Chelsea's new owners would need to find a replacement, and among the top candidates for the role are Brighton's Graham Potter, former Real Madrid boss Zinedine Zidane, and ex-Tottenham manager Mauricio Pochettino.
Potter is reportedly the frontrunner, with Boehly set to meet with him after receiving permission from Brighton. It remains unclear just how much Chelsea would need to spend to appoint Potter as its new head coach but sources say the deal could be worth at least £10 million.
Potter still has an ongoing contract with Brighton which expires in 2025. Under Potter's management, Brighton has achieved major progress, as reflected in its ninth-place finish last season, the club's best performance so far in the Premier League.
Pochettino, who is now a free agent after being fired by Paris Saint-Germain, is also a potential candidate to replace Tuchel, and so is Zidane who left Real Madrid in May 2021.
In the meantime, assistant coach Anthony Barry will take over as interim boss of Chelsea as negotiations continue for Tuchel's replacement. Barry became part of the club's backroom staff ahead of the 2020/21 season. He will lead the team in its game against Fulham at Craven Cottage on September 10.