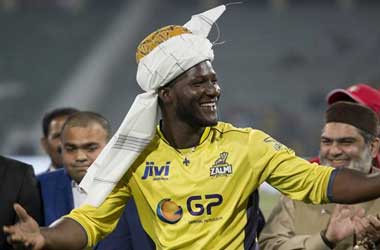 Former West Indian captain Darren Sammy has been livid on social media after finding out that the pet name 'kaluu' given to him during his time in the Indian Premier League (IPL) was a racial slur.
The Hindi word 'kaluu' means 'black' but Sammy was led to believe that the word meant strong stallion and he proudly accepted it and allowed his team mates at the Sunrisers Hyderabad franchise to refer to him as kaluu.
Sammy played for the Sunrisers during 2013 and 2014 and there is an Instagram post during this period when fellow team mate Ishant Sharma has used the word kaluu to refer to Sammy in the post.
It is clear that Sammy's claims are not frivolous but strangely none of the other cricketers in the IPL have come out and supported him barring his West Indian team mates. In a way it is not surprising as the IPL is the richest T20 domestic cricket tournament in the world and players get paid handsomely for playing in the IPL.
The Quint
No player wants to jeopardize their IPL pay check and hence the silence is understandable in light of this. It is a well-known fact that neither IPL franchises nor the Board of Control for Cricket in India (BCCI) take kindly to criticism from players and those who defy them tend to get the short end of the stick.
ICC and BCCI Continue Stay Silent
Sammy who led the West Indies to two T20 World Cups in 2012 and 2016 called on the International Cricket Council (ICC) to take action and stamp out racism in cricket. However, neither the ICC nor the BCCI have responded to Darren Sammy's claims and have looked to silence the matter.
The ICC is currently busy trying to figure out whether it should stage the T20 World Cup in Australia this October while the BCCI is looking at ways in which it can host the IPL before the end of the year.
Former Indian all-rounder Irfan Pathan spoke to the media and said that racism was evident in Indian cricket as South Indian cricketers are subjected to abuse whenever they tour the North. South Indian cricketers are generally darker skinned when compared to North Indian cricketers.
Racism is not restricted to the colour of the skin.Not allowing to buy a home in a society just because u have a different faith is a part of racism too… #convenient #racism

— Irfan Pathan (@IrfanPathan) June 9, 2020
The silence from the BCCI and ICC does not send a strong message to the rest of the cricketing fraternity. West Indian cricketers Chris Gayle, Dwayne Bravo and Andre Russell have all come out and claimed that racism needs to stop but none of them have directly addressed Darren Sammy's claims.