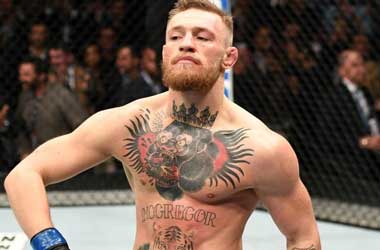 Conor McGregor was once the biggest star in mixed-martial-arts who called the shots in the UFC as everybody wanted to fight him and have a red panty night.
However, the Irish fighter has fallen from grace in the eyes of MMA fans around the world and also in the eyes of the top fighters in his lightweight division.
The top fighters in the UFC lightweight division such as Tony Ferguson, Dustin Poirier, Justin Gaethje, Donald Cerrone and champ Khabib Nurmagomedov have all gone on record to state that McGregor is irrelevant in the lightweight division.
Their reasons are well justified. McGregor has only fought twice in the lightweight division.
His first fight was for the belt against champ Eddie Alvarez and he ended up winning the fight but never did defend the belt. His second fight was to reclaim the belt from Khabib Nurmagomedov and he ended up losing the fight.
McGregor has not set foot inside the Octagon after his loss to Nurmagomedov but has continued to call out multiple fighters via social media but has never signed an agreement. The top fighters don't consider McGregor a serious threat anymore. UFC Featherweight champ Max Holloway recently stated that he wouldn't entertain a fight with McGregor as he did not feel that Conor was as focused and committed to MMA as before and he did not want to fight a mediocre McGregor.
Make no mistake about it, Conor McGregor will still generate a huge payday for the UFC and whoever turns out to be his opponent. This is why Dustin Poirier changed his mind after his loss to Khabib and is now open to a McGregor fight.
McGregor Calls For Frankie Edgar Fight
Conor is very keen on fighting in December and wants to face Frankie Edgar. He took to social media to ask UFC President Dana White to make the fight as Edgar was also in agreement. McGregor has also claimed that the UFC can donate his full purse to charity.
Frankie Edgar is a legend of the sport but let's face facts. Edgar's last fight was a loss against champ Max Holloway at featherweight. Frankie has decided to move down a weight class and go to bantamweight.
MMAFightingonSBN
Conor McGregor is highly unlikely to make featherweight, which means Frankie will have to move up two weight classes and fight at lightweight. If the fight does happen and McGregor does win, it will certain not gain him any brownie points with the top fighters in the lightweight division.