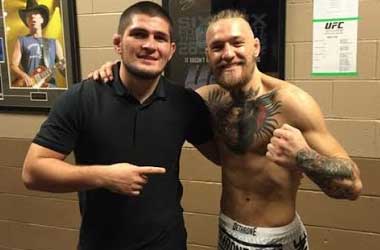 Conor McGregor hasn't stepped into the Octagon in nearly 2 years and MMA fans are very eager to know when 'The Notorious' will return to the Ultimate Fighting Championship. The Irish super-star has seen both his UFC Featherweight and UFC Lightweight championships stripped as he hasn't defended them.
MMA Team Dagestan has announced on Twitter that talks are going on to get McGregor and Khabib Nurmagomedov to fight at the T-Mobile Arena in Las Vegas, Nevada at UFC 229. Khabib Nurmagomedov who is the current UFC lightweight champion will defend his belt for the first time and get to settle his differences with McGregor in the Octagon. UFC229 is scheduled to take place on October 6.
Khabib's father told MMA Team Dagestan
It is undesirable to say about this now, but negotiations are nearing completion.
Should things work out and contracts be signed, UFC229 could turn out to be the biggest event for the UFC in 2018. However, UFC President Dana White is yet to confirm these rumors and says as of now Conor McGregor is focusing on his legal troubles.
MMA FOCUS
McGregor made an appearance at the Kings County Criminal Court in New York last week to face charges for his assault at the Barclays Center back in April 2018. He is set to make another court appearance on July 26 to work out a possible plea deal. If he is able to settle his legal troubles, McGregor should have enough time to go through fight camp for UFC229.
Bad Blood Makes Fight Very Interesting To MMA Fans
Conor McGregor has millions of fans around the world and usually has the upper hand when he goes into a fight. However, this time around he is up against Khabib Nurmagomedov who is undefeated in his MMA career. The Dagestan fighter has made it clear that he does not fight for the money but fights to prove that he is the best at 155lbs.
There is a lot of bad blood between the two fighters as evidenced by the Barclays attack. Nurmagomedov has just come off his Ramadan fasting and has made it clear that he is eager to get back into the Octagon and have a 3 month camp that will have him ready to defend his belt in October.
The UFC has also maintained that they need 3 months to promote a Conor McGregor fight. However, do not expect the UFC to confirm anything until the July 26 court hearing is finished.