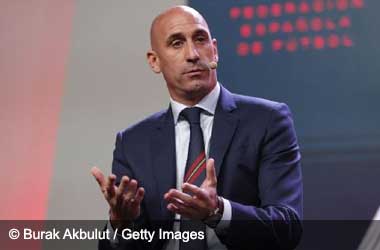 Summary:
Spanish President Luis Rubiales ends kissgate scandal after deciding to resign
Rubiales kissed Jenni Hermoso on the lips after Spain's women's team won the 2023 FIFA World Cup
Rubiales said his daughters convinced him to resign and focus on his dignity
The 'kissgate' controversy involving Spain's football federation President Luis Rubiales and star player Jenni Hermoso has finally come to an end. The kissgate controversy has hogged the headlines in Spain and around the world ever since Rubiales kissed Jenni Hermoso on the lips after Spain's women's team won the 2023 FIFA World Cup.
Hermoso and her fellow players initially joked and laughed about it on the bus back home but things quickly turned sour in the media once Hermoso said it was not consensual. Rubiales has been under tremendous pressure since August 20 to resign from his post but he refused to step down.
Rubiales Decides To Resign After Advice From Daughters
Rubiales had initially stated that the kiss was mutual and that everyone was making a big deal out of nothing. He wanted to put it behind him and move on but the kissgate incident blew up in the media and so did the pressure for him to resign.
While Rubiales fought for his post, Spain's football federation decided to sack head coach Jorge Vilda last week. Vilda led the women's team to their first World Cup win in Sydney, Australia but given the fact that he had issues with the women's team in the past and he initially backed Rubiales for not resigning and fighting, he got cut.
With Vilda getting his walking papers, the pressure over the weekend continued to mount on Rubiales to resign and he finally gave in to bring an end to the kissgate scandal.
In a statement, Rubiales said
After the rapid suspension carried out by FIFA, plus the rest of the proceedings opened against me, it is clear that I will not be able to return to my position. My daughters, I spoke with them and they know it's not a question about me. They say to me, Luis you have to focus on your dignity and continue your life. If not probably you are going to damage people you love and the sport you love.
Rubiales shared his views and what he felt about the entire situation during an interview on Piers Morgan uncensored.