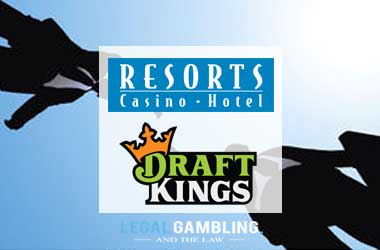 Gaming operators in New Jersey are preparing to launch sports betting services after the Supreme Court ruled in favour of New Jersey and repealed the PASPA 1992 Act that banned sports betting.
Resorts Casino recently announced that it has entered into a partnership with leading Daily Fantasy Sports (DFS) provider DraftKings. FanDuel and DraftKings dominate the majority of the DFS market and have a massive customer base across the country.
Gaming operators are preparing themselves to enter the sports betting market across the US and want to position themselves to be able to capture as big a piece as possible of this newly licensed market.
In a statement, Jason Robins, CEO of DraftKings said
Everybody knows there's a big opportunity out there. It's a new thing, so people are trying to see how they want to go about it, who they want to partner with. Anytime you've got a big market about to be created, there's so much opportunity out there that everyone should benefit, as long as you do it the right way
DraftKings Ready To Launch Services
DraftKings is a trusted and reputed brand in the DFS market and the company will leverage both its technology and customer base once New Jersey rolls out sports betting services. DraftKings has innovative mobile and web based in game betting opportunities and is in a position to quickly launch operations along with Resorts Casino.
FanDuel – the biggest competitor to DraftKings had earlier entered into a partnership with Paddy Power Betfair – a major bookmaker in Europe. The two will look to compete against DraftKings and Resorts Casino and see who can get a bigger piece of the sports betting market in the United States.
A number of top gaming providers are quickly teaming up with companies who have experience in the sports betting field as it will enable them to quickly launch services and have the required experience to navigate the sports betting market. Churchill Downs which hosts the Kentucky Derby has teamed up with the Golden Nugget Casino in Atlantic City and an IT company to prepare to launch its sports betting platform.
Sports leagues across the country haven't been too happy with the legalization of sports betting in New Jersey. They have been concerned about the integrity of their games once betting comes into the picture but now that PASPA has been repealed, they are slowly coming to terms with the decision.