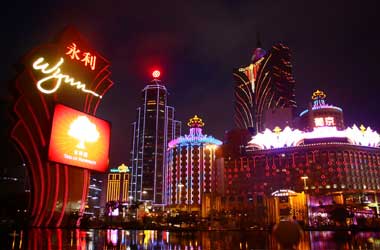 The licenses and concessions given to Macau's six major gaming operators are set to expire in the next three to five years and casino operators are very interested in knowing what Macau regulators have in mind going forward. However the Macau government remains adamant to conceal its strategy and timeline regarding the renewals.
Macau's economy is still predominantly dependent on gaming revenue generated by its massive casino industry. Gaming licenses of SJM Holdings and MGM China are set to expire by March 2020. Licenses of the remaining Sands China, Galaxy Entertainment, Wynn Resorts and Melco Resorts are set to expire by June 2022. Macau's government is likely to impose more stringent regulations before renewing gaming licenses to ensure that its industry is more regulated and incorporates more non-gaming activities.
Macau's Chief Executive Chui Sai On said during his annual policy address this month that before legislations are finalized, Macau will review the whole $30 billion gambling market. Chui has specifically mentioned that the government will be reviewing non-gaming commitments made by the operators when their licenses were first approved.
Close to 9 percent of the total revenue generated by gaming operators in Macau was already attributed to non-gaming revenue in 2015. This is in line with Macau's Five-Year Development Plan deadline.
During the plenary sitting of Macau's Legislative Assembly last week, Macau's Secretary for Economy and Finance, Lionel Leong Vai Tac said that the government will be taking into consideration a variety of factors in drafting and releasing the new regulations which will include region-wide and even world-wide competition.
In a statement during the question and answer session of the plenary, Leong said,
To guarantee its sustainable development we need to pay close attention to international competition. Before we announce the new rules, we need to think about the appropriate time to do so, in order to guarantee the sustainable development of the gaming sector
This is why the Macau government continues to maintain its silence on when and how these new rules on concession renewals take form. Leong noted that if they release the regulations too early, this would allow other jurisdictions to amend and adjust their policies accordingly. Macau wants to stay clear of harsher competition. However the silence is not going down very well with the casino operators.
SJM Holdings Executive Director Angela Leong On Kei urged the government to come out with its plans as soon as possible so as to provide a smoother renewal process for all casino operators. The special administrative region's gaming bylaws states that the government could renew existing operator contracts for a maximum of five years. Once these concessions expire, renewal can only be granted through an open tender.