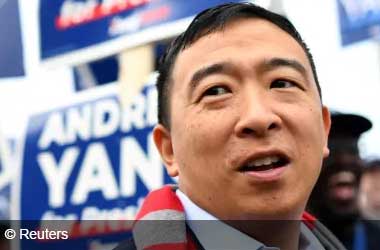 Andrew Yang is now out of the US presidential race. The American businessman, who gained a huge following in the poker community for openly supporting the nationwide legalization of online poker, announced this week that he was officially terminating his candidacy.
Yang has invested heavily in his campaign but was unable to get the results he wanted. Last week, he had a disappointing finish in Iowa, gaining only 1% support, despite pouring out millions and embarking on a two-week bus tour in the lead up to the caucus. Entering New Hampshire, the numbers still looked weak for Yang, leading him to decide to drop his bid even before the conclusion of the state's primaries.
Yang announced his intention to run for US presidency back in 2017, and while he initially did not get much fanfare when he launched his campaign, he managed to attract devoted supporters through his unique campaign platforms, including the implementation of universal basic income (UBI) and the legalization of marijuana.
CNN
The entrepreneur became a fan favorite in the world of poker in particular as he has been vocal about legalizing online poker across the country. Among his avid supporters is Poker Hall of Famer Daniel Negreanu who even joined the "Yang Gang" and attended his rallies. But the numbers are just not enough to propel his candidacy and strongly compete against veteran politicians like Bernie Sanders, Joe Biden, Pete Buttigieg, Elizabeth Warren and other Democratic candidates.
The results of the New Hampshire primaries put Sanders at the top with 26% of the vote. He was followed by Buttigieg (25%), and Amy Klobuchar (20%). Yang's performance was once again less than stellar, gaining just nearly 3% support. Right there, he knew his chances were slim.
Yang Bows Out Gracefully
Yang thanked his supporters and took pride in being able to touch millions of lives and moving his country in the right direction.
In a tweet, Negreanu praised Yang's campaign and expressed his appreciation for the former candidate's online poker advocacy. A charity poker fundraiser was scheduled to take place at the Mosaic Theater in Las Vegas this weeks supposedly to raise funds for Yang's campaign. It's understood the event will still push through despite Yang's decision to bow out of the race.
Very proud of the campaign @AndrewYang ran and believe this is only the beginning in terms of his impact on the country.

Come celebrate with @AndrewYang @kenjeong and other #YangGang faithful this Thursday in Las Vegas at Mosaic theater. pic.twitter.com/Vcq4BOFmN8

— Daniel Negreanu (@RealKidPoker) February 12, 2020
Yang isn't the only Democratic candidate to end his presidential campaign. On Wednesday, Former Massachusetts Governor Deval Patrick also announced he was suspending his campaign effective immediately after a poor showing in both the Iowa and New Hampshire primaries.