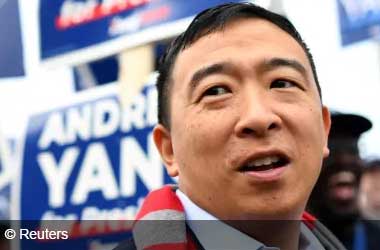 The campaign for the legalisation of online poker in the US has gained a high-profile supporter after Presidential Candidate Andrew Yang stated that online poker should be made legal in all 50 states.
Yang, a Democratic candidate for the 2020 US Presidential Elections, announced his backing for the nationwide legalisation of online poker via a tweet over the weekend, while he was attending a series of Town Hall forums in the state of Nevada. Yang said the current state-by-state rules regarding online poker only lead to a lot of players turning to offshore sites.
The Democratic challenger said it's about time poker players in every state get to play and enjoy online poker without worrying about legal repercussions. Yang added that a nationwide legalisation of online poker will help boost tax revenues that could be spent on programs to alleviate addiction. He said both the companies and US players would benefit from such move.
Poker is deeply ingrained in American culture and is even considered the national card game of the country. However, online poker is currently regulated and legal in only five states — Nevada, Delaware, New Jersey, Pennsylvania and West Virginia. Online poker has been legal in the first three states for a number of years, but it still trails behind other online gambling verticals like sports betting in terms of growth.
Pennsylvania recently launched its regulated online gambling market, but online poker has been left on the back burner. West Virginia made the practice legal just earlier this year.
Poker Community Reacts to Yang's Tweet
Yang's declaration of support for online poker has attracted the attention of the poker community, with some prominent names in the game appreciating the Democratic candidate's efforts to shed light on the subject. Daniel Negreanu echoed Yang's sentiments, and urged fellow poker players and fans to support Yang. partypoker partner and Dusk Till Dawn owner Rob Yong also responded to Yang's tweet with prayer emojis.
Ummm YES!!!!

Poker players who want the freedom to play poker from home, this just might be your guy. #YangGang2020 https://t.co/pw2qA5aZqP

— Daniel Negreanu (@RealKidPoker) October 26, 2019
Poker player and content creator Joey Ingram even invited Yang for an interview on his show so that the presidential candidate can further explain his stance regarding online poker in the US. Yang responded and said he would love to sit down and talk more about the topic.
Thanks Joey. Would love to sit down. 👍

— Andrew Yang🧢 (@AndrewYang) October 27, 2019
The potential meeting between Ingram and Yang has sparked excitement among pros and fans, including super high roller crusher Fedor Holz and WSOP bracelet winner Brian Rast.
An expression of support from prominent figures like Yang is seen as positive development especially among online poker players and enthusiasts who have long been wanting total freedom to play and enjoy the game from their own home.