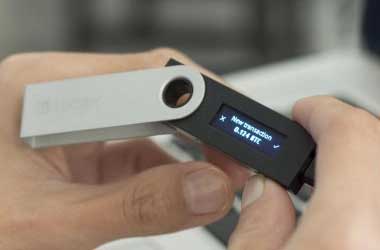 Hardware wallet manufacturer Ledger has announced that it will launch a new generation wallet application on July 9. The Ledger wallet application is built natively for mobile and desktop and allows storing all cryptocurrencies in a single place. The app will be available on Windows, Linux, MacOS, Android, and iOS. It won't require Google Chrome or Chromium anymore.
Back in 2015, Ledger introduced its Bitcoin Chrome application to interact with its hardware wallets and perform simple and secure management of cryptocurrencies. Soon, Ledger Wallet Ethereum and Ripple applications (native) and Chrome apps were launched, allowing easy management of those cryptocurrencies with the Ledger wallet. Following the huge growth in cryptocurrency market, and launch of several altcoins, Ledger felt the need for a significant facelift. This has led to the development of the above discussed wallet application.
Ledger has stated that the initial release
"will bring all the current set of features supported by all our different apps, but in a unified and multi currency unique application."
The complete list of features included on the desktop app is as follows:
Native desktop application (Windows, macOS, Linux)
Multi currencies (28 cryptos including Bitcoin, Altcoins, Ethereum, Ripple…)
Multi devices (Ledger Nano S, Ledger Blue)
Read only consultation of accounts without device (protected by optional password)
Dashboard view of all assets
Counter values: choice of currency & exchanges
Send, receive, account balances & history
Confirmation before sending funds
On device verification of the receive address
Faster account synchronization engine
Easy onboarding for new users
The initial version of the Ledger Wallet desktop native application (replacing our Chrome apps) will be released on July 9th. More information on our updated blogpost https://t.co/pmpvZOxfMq Our schedule moved by a few weeks, but the wait will be worth it!

— Ledger (@LedgerHQ) June 5, 2018
The future release will offer a full mobile experience, the ability to support a lot more cryptocurrencies on Ledger Nano S, and third party app integrations.
Features to be included in future releases
Mobile application version (Android & iOS)
Ledger Nano/HW.1 support
Install/uninstall apps on Ledger Nano S automatically to smoothly manage an unlimited number of cryptos on one device
Ethereum ERC20 tokens & contract management
Third party apps integration (buy/sell cryptocurrencies, exchanges, swaps…)
Transaction tags & notes
Spotlight search
Generate more than one new address
100+ cryptocurrencies support
Furthermore, the new application will have its own native USB drivers. So, Google Chrome won't be necessary. The disadvantage is compatibility with Chromebook platform will be lost.
Ledger Manager
Ledger has revealed that it is working on a new version of the Ledger Manager platform. It will avoid the need to install any extension and be based on a a web based solution involving direct USB communication. Google Chrome, Chromium, and Opera are the supported browsers. The new version will include features such as device information, apps updates, firmware, and quick overview of installed currencies, categories, 3rd party apps.
The Ledger Wallet desktop application and the Ledger Manager support will be released on July 9th, 2018. Updates will soon follow, with a priority on adding ERC20 support. The mobile version is scheduled for end of Q4 2018.