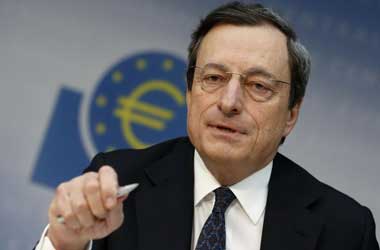 Mario Draghi, the President of the European Central Bank, has admitted that the European banks could soon hold positions in Bitcoin. Draghi has spoken against Bitcoin in the past. In fact, two days before, the ECB's chief supervisor Daniele Nouy said to CNBC "crypto currencies are not in the ECB's priority list."
While delivering a speech to the European Parliament in Strasbourg, France, Draghi said the bank's supervisory board is currently studying whether crypto currencies are posing any risk to the Euro zone's financial stability. Furthermore, Draghi said that European banks are currently showing "limited appetite" for Bitcoin and other crypto currencies.
Draghi said
"However, recent developments, such as listing of Bitcoin futures contracts by US exchanges, could lead European banks too to hold positions in Bitcoin, and therefore we will certainly look at that."
The statement is of paramount importance in the sense that Draghi had been a critic of Bitcoin in the past. The president of the ECB had stated that 'unregulated' crypto currencies such as Bitcoin are 'very risky assets' and banks should consider risks before including it in their portfolio. The listing of Bitcoin futures by the CME and CBOE exchanges invoked sharp criticism among financial leaders. However, the SEC Chairman Jay Clayton's testimony indicates that the US regulators have clearly understand the positive aspects of the technology that is going to revolutionize many business sectors in the future.
Coming back to Europe, Draghi also hinted that the ECB may bring forth a 'Single Supervisory Mechanism' to monitor crypto currency related risks towards banks and other financial institutions. Notably, Draghi has previously mentioned that the ECB does not have adequate powers to regulate Bitcoin.
The price of Bitcoin, a deflationary currency, may see a sharp rise if banks and other major financial institutions start investing in the currency.