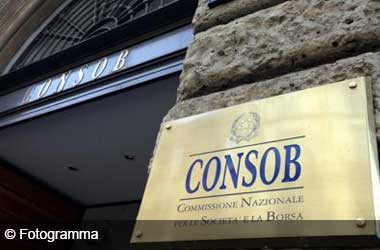 Five websites that were offering crypto and forex services in Italy were shut down by the Commissione Nazionale per la Società e la Borsa (CONSOB), the country's securities regulator. This was because they were caught engaging in misleading marketing practices in their promotion of forex and cryptocurrencies.
Italian internet access providers (ISPs) were instructed to block all access to the following five sites: TomCom Limited (https://royalfxpro.eu), Bonatech Ltd e Mitchell Group EOOD (https://ccxcrypto.com), Next Trade Ltd e TLC Consulting Ltd (https://aspenholding.co and https://aspen-holding.com), "Trader Platinum" (www.traderplatinum.com) and London Capital Trade Ltd (www.londoncapitaltrade.net).
CONSOB has the power to block these sites thanks to the "Decreto Crescita" which gives the regulator blacklisting powers against sites that they deem illegal.
It is interesting to note that one of the brands uses the name "London Capital Trade". This is a cagey move because it mirrors the name of the legitimate and more successful brand "London Capital Group". The rogue firm is able to fool many unwary investors by going by such a name hoodwinking investors into thinking that they are dealing with an FCA-authorized broker.
This is another step in CONSOB's moves to clean up the trading market. Earlier this year, the financial watchdog decided to follow the footsteps of other regulatory agencies and banned the sale of binary options to retail customers. It also set up a restriction that stopped promotions of contracts for difference (CFDs) to non-professional investors.
Warning to Crypto Businesses
Besides looking into shady investment operations, CONSOB has also released a warning list of businesses that offer cryptocurrency-focused trading services without having the proper permissions from the regulator. Investors who trade with these firms risk a lot and may end up losing their money, especially because they usually trade in risky CFDs.
Currently, Italy has no specific laws about cryptocurrencies. The only thing close to a law is how the country defines them for purposes of anti-money laundering. This only works as a way to define what a cryptocurrency is, which under Italian law is any digital token not issued by any central bank that can be used as a medium of exchange.
The country's finance ministry recently completed its consultations on the subject of the blockchain industry and how it should be registered and reported. A draft bill is already available that will require crypto exchanges to report their activities in full to the authorities. This is an addition to a previous decree that was issued in 2017.