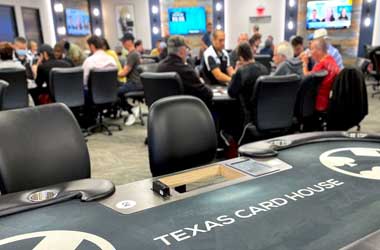 Summary:
The incident happened at Texas Card House in Spring, Houston
Several suspects attempted to rob the club but were foiled by the on-duty security guard
The security guard is recovering from his injuries as the culprits remain on the run
A security guard was injured following an attempted armed robbery at Texas Card House (TCH) near Houston early morning on July 20.
The on-duty security guard was reportedly shot multiple times by the culprits but thankfully survived and is currently recovering in hospital.
Security Guard Foils Armed Robbery at Poker Room
According to a report from news website Click2Houston.com, a group of robbers arrived at the venue at around 6 a.m. The security guard tried to prevent the suspects from entering the card room resulting in a gun battle between him and the culprits.
The victim received multiple gunshot wounds but the injuries were non-life threatening. He successfully foiled the robbery attempt, with poker players and employees all safe and well after the incident.
While the suspects did not enter the club, sources say it was definitely an attempted robbery. Four men reportedly ambushed the guard on duty. He fought back, disarming one of the robbers, leading to the gunfight. The group immediately fled after the shootout and are yet to be caught as of this writing.
Sources at TCH say the culprits could be part of a group of robbers that have also tried to break into other card rooms in the area, though this has not yet been verified. As of this writing, the suspects remain on the run. Police have yet to make arrests and are still investigating the incident.
In January 2022, the Legends Poker Room in Houston was also the subject of an attempted armed robbery. The security guard on duty tackled the suspect. The culprit's firearm went off but no one was injured.
TCH runs poker clubs in six locations throughout Texas. It operates a card room in Dallas, and also one in Austin. The venue that was nearly robbed is located in the suburbs of Spring, several miles north of Houston. TCH operates a second card room in the Houston area, located on Westheimer Road in Briargrove Plaza.
Texas Card House Rules
TCH runs as a private social club accepting players via a membership model. Membership fees are payable on daily, monthly, and yearly terms, with new members subject to a one-month probationary period. Bringing food is allowed, but alcohol may be prohibited at other TCH venues depending on their respective policies.
All poker games are conducted using the World Series of Poker (WSOP) rules for cash and tournaments unless stated in specific club rules.