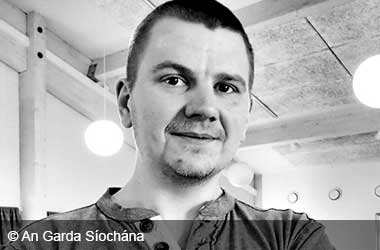 Jon Jonsson, a 41-year old Icelandic poker player who travelled to Dublin, Ireland has been missing since February 9. Last seen in the Whitehall area of Dublin, he has been the focus of a two-week long search by the authorities.
The Gardai have released the last piece of CCTV footage that featured Jonsson in the hope of determining the poker player's current whereabouts. They have also renewed calls for information on his current location.
Jonsson was visiting Dublin with his fiancée as he wanted to take part in a poker tournament and vacation as well. He arrived alone in the country on February 8 and his fiancée arrived the next day, which was the day that he disappeared.
The details of his disappearance started when he left the Bonnington Hotel early in the morning on Feb 9th. According to CCTV footage from McGettigan's Bar, he was seen leaving Swords road and going in the direction of the airport. The last sighting of Jonsson was of him at the exit of the Highfield Hospital going towards Collins Avenue.
Independent.ie
Descriptions of Jonsson have him at six feet in height with a medium build and short brown hair. He was also last seen wearing a black padded jacket. According to reports, he left his passport and wallet at the hotel.
Intense Search But No Results
Jonsson has been a focus of an intense search for weeks now. His family has also been flown over from Iceland to help with the search. Twelve members of his family are now actively scouring the city, trying to find the poker player as they believe that he was in good mental and physical condition when he disappeared.
In a statement, his sister Anna said
There's a whole gap in the family, we are really connected – we have a good relationship. When I'm about to get into trouble or about to be depressed or something, he calls me before that happens and tells me no problem is too big to solve. He's my comfort person
The search for Jonsson has only intensified as the weeks have passed. Over 80 volunteers have turned up to help out. The Gardai has repeated calls for further information on his location with the latest culminating in the release of the last CCTV footage of him, along with pictures of the missing individual.
Jonsson's family is not giving up hope and his brother is determined to remain in the country till they find him.