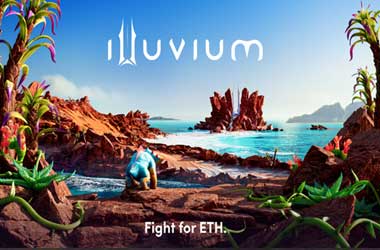 ILV, the native cryptocurrency of Illuvium, an open-world fantasy battle game developed totally on the Ethereum blockchain, got listed on Bitcoin.com Exchange last week. The ILV crypto token was developed by the core team of Illuvium in an effort to reward players who take part in their open-world RPG adventure game developed on the Ethereum blockchain. To begin with, ILV has been paired with USDT and Bitcon for trading.
Illuvium is often regarded as the foremost actual AAA game hosted on Ethereum blockchain. The Illuvium eco-system is made up of creatures named Illuvials. With respect to visualization, Illuvials are far advanced than crypto kitties, which brought the NFTs (non-fungible token) concept to limelight. The illuvials have been structured as top quality 3D image by renowned developers in the crypto domain.
By moving around the huge ecosystem of Iluvium, gamers can gain Illuvials by winning them in a battle and then treating them until recovery. These Illuvials will become trustworthy followers of gamers and can be deployed in battles or other kind of endeavors. Illuvials, which have a pre-determined supply, have names such as Archeolon etc. Notably, each Illuvial also comes in the form of NFT.
Illuvium
Contrary to other games based on blockchain technology, players on Illuvium platform can simply pass time by looking at the terrain composing of seven distinct and stylish domains, creating a group of strong Illuvials or a blend of both. Furthermore, gamers will also be able to exchange their holdings of Illuvium for Ether (ETH) on the Illuvium exchange.
Since last year, over 40 programmers with extensive experience in crypto and gaming industry are involved in the development of Illuvium. Quantstamp, Bitcoin.com and Moonwhale are some of the several renowned names which are backing the Illuvium project.
The native crypto of Illivium is ILV is used to reward gamers for achieving new milestones in the game. Additionally, the crypto token will also be used for governance in the Illuvium DAO. Furthermore, players will be able to receive a percentage of the vault. The peak supply of ILV is established at 10 million, spread across Flash Pools, Liquidity Pools, in-game rewards, core team, Treasury, Pre- and Launchpad-Seed capital.
Danish Chaudhry, CEO of Bitcoin.com Exchange, opined that the entry into AAA gaming domain is not an easy task and turning into the foremost AAA blockchain video game is yet another initiative in the correct path for the gaming sector. He further stated that Illuvium is resolving some of the complex problems in the gaming sector such as scalability or a dearth of elaborate artwork. This offers an advantage and additional likelihood to create an increased adoption in the market.
Chaudhry further revealed that Illuvium is planned to be launched in the third-quarter of 2021, along with the listing of the Illuvium token (ILV) on the firm's own exchange.
Kieran Warwick, Co-founder of Illuvium, also conveyed his optimism by stating that
At Illuvium, we seek to increase trade volume to ensure a sustainable performance of $ILV on the market. Partnering with premium exchanges like Bitcoin.com Exchange assists our DAO, and token holders, with that goal.