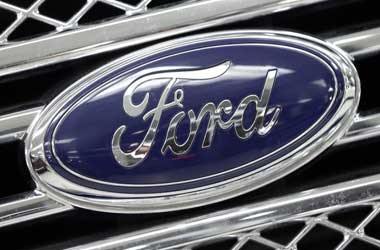 Ford Global Technologies, LLC, a subsidiary of Ford, has received a patent for a system which facilitates cars on road to communicate with each other using cyrptocurrencies and reduce traffic. The Patent titled "Vehicle-to-Vehicle cooperation to marshal traffic" was published yesterday.
According to the patent filing, traffic congestion occurs when one or more lanes of a multilane road are blocked, for example, because of a construction or an accident. The blocked lanes reduce the flow rate of vehicles through the section of the road with the blocked lanes. The reduced flow is compounded due to the psychology of human drivers who focus on their individual travel time preferences.
Traffic Flow Control (Ford's patent no. 9,928,746)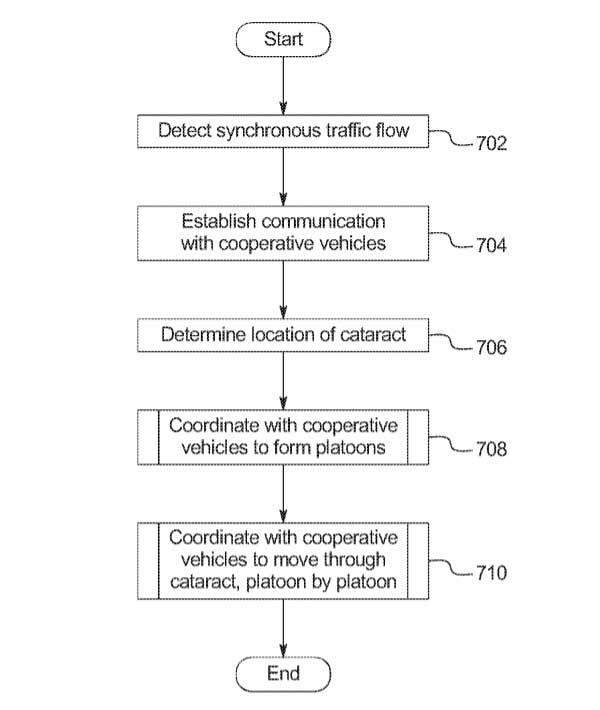 The patent suggests how to reduce the traffic congestion by explaining a concept called co-operative adaptive cruise control (CACC).
Co-operative adaptive cruise control (CACC)
According to the patent document, vehicles that are equipped with vehicle-to-vehicle (V2V) communication modules can cooperate when in transit. These vehicles include a cooperative adaptive cruise control (CACC) that coordinates, for example, acceleration and deceleration to, when in groups, efficiently use road space, prevent accidents, and warn each other about road hazards. As used herein, vehicles with CACC are referred to as "cooperative vehicles." Additionally, as used herein, vehicle without CACC are referred to as "standard vehicles." As disclosed below, the cooperative vehicles coordinate their movement to marshal cooperative vehicles and standard vehicles though the traffic cataracts. The cooperative vehicles marshal in situations where the cooperative vehicles are a relatively small percentage (e.g., greater or equal to three percent) of the vehicles round the traffic cataract.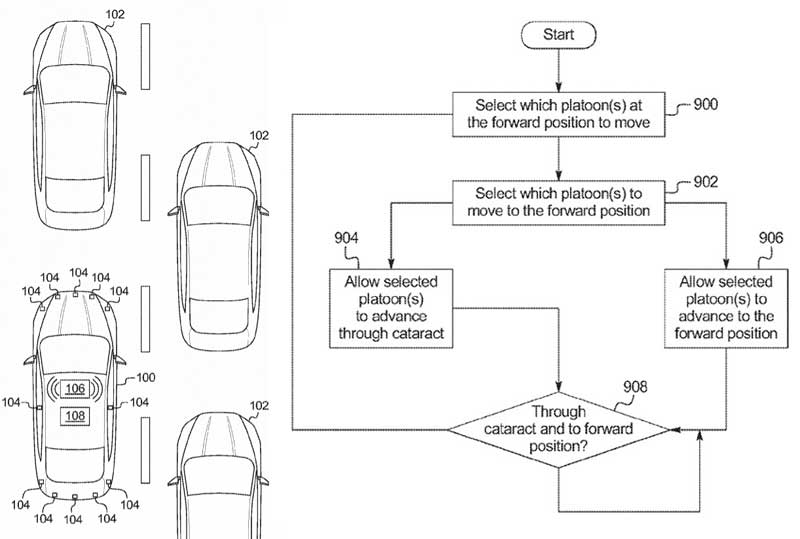 Cooperatively Managed Merge and Pass (CMMP) System
The document also outlines how cooperative vehicles coordinate to facilitate what Ford calls "Cooperatively Managed Merge and Pass (CMMP)" system. The CMMP system facilitates particular drivers accessing less congested lanes. Drivers with cooperative vehicles may choose to participate in the system in which driving behavior is monitored, recorded, and evaluated in a collective manner by themselves and other participating vehicles. This system would temporarily allow for particular cooperative vehicles (sometimes referred to as "consumer vehicles") to drive at higher speeds in less-occupied lanes of traffic and also to merge and pass freely when needed. Other participating cooperative vehicles (sometimes referred to as "merchant vehicles") voluntarily occupy slower lanes of traffic to facilitate the consumer vehicle to merge into their lanes and pass as needed.
CMMP Tokens
The patent document also explains how a cryptocurrency, named CMMP token, will facilitate smooth flow of traffic. The CMMP system operates with individual token-based transactions, where the merchant vehicles and the consumers' vehicles agree to trade units of cryptocurrency (sometimes referred to as "CMMP tokens"). The CMMP tokens are used to validate and authorize a transaction in which, at consumer vehicle request, the merchant vehicles either occupy slower lanes of traffic themselves, or allow the consumer vehicle to merge into their own lane and pass as necessary.
The participating merchant vehicles gain CMMP tokens from the consumer vehicle. In some examples, the time allotted to the request of the consumer vehicle is based on the number of CMMP tokens chosen by the consumer vehicle to be spent at that particular time. For example, a driver of a consumer vehicle which is running late for an appointment may request to pass any participating merchant vehicles for a duration of 10 minutes on a particular road or highway for 60 CMMP tokens, at a rate of 10 seconds preferential access per token.
The patent proves that blockchain can tremendously improve our day-to-day activities and resolve complex issues. Invariably, top companies in all business sectors are working on various blockchain projects. However, details are usually known only when a patent is filed or product is launched based on the discovery.